Description
30-DAY RISK FREE SATISFACTION GUARANTEED
The Banana-Board Platform comes with a unique design that works great in straight work surfaces as well as corner applications. The gliding mouse can easily be switched position to either side of the platform to accommodate left and right hand users.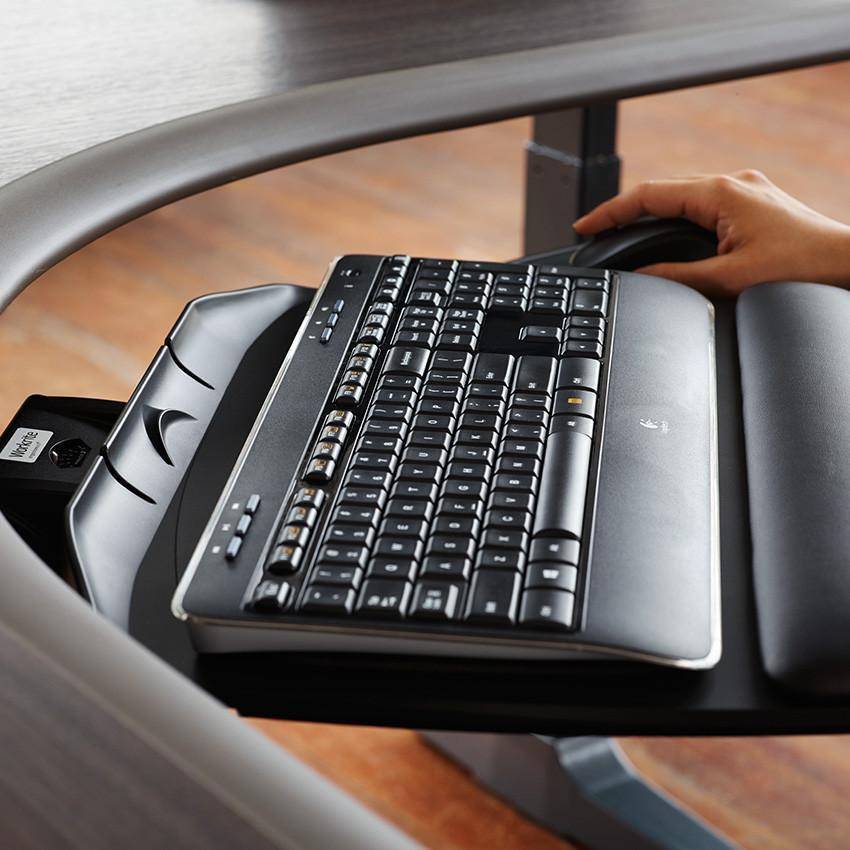 ---
---
The most popular keyboard system Workrite carries with it's unique design it can be used in both corner areas and in straight work applications.
---
The platform easily allows you to add and remove the memory foam wrist rest.
For Lefties and Right Handed Users
---
The mousing platform slides easily from side to side to accommodate both left and right handed users.
---
Features:
Cable management kit.
Built in document holder.
Removable palm support.
Swivel reversible mouse tray.
Accommodates left and right mouse users.
Auto lock mechanism that allows you to easily adjust tray position (

Keyboard Tray System).
Specifications:
New Column
New Column

T-molded .625" Melamine construction

System Inclusion (Optional)

3170 Pinnacle 2 keyboard arm

25° tilt range: -15° +10°

Adjusts from flush to 6″ below work surface

17" (2128-17); 21"( 2128-22)

17" track - exceeds 3" front of track;

22" track- full storage
Workrite Banana Board
I had purchased one of these several years ago. I purchased the 22 inch ball bearing track and the platform. I like being able to switch the mouse from left to right to avoid repetitive stress injury. The design hasnt changed much at all. it is sturdy (and heavy). Compared to the old one the the front to back track moves smoothly, but raising/lowering the tray takes more force than it should. and rotation takes way too much force. I don't use this feature, but if i did it would be a deal-breaker. Easy removal of the wrist support is helpful as I have an ergonomic keyboard with an integrated wrist support.
Arrived in good condition
I just installed it, I am not the user, but I have not heard any complaints.
Five Stars
Great product. Exactly as described, easy to install and works great.
Nice keyboard tray, but get rid of the mouse!!
Nice tray, but I don't know why people would want an attached mouse tray...especially when you require a slanted keyboard tray...mouse slides off onto the floor! My solution is to use the RollerMouse and forget about the mouse tray!!
Excellent
The product is excellent. There are no issues and the description provided on line was accurate for the product. I would recommend this to others.
Payment & Security
Your payment information is processed securely. We do not store credit card details nor have access to your credit card information.