Description
Is your desk getting a bit more crowded by the day and you're needing to get creative with how your work station is set up? Don't fret, we've got you covered.
The Corner Rectangle adapter is a neat piece of accessory which can easily transform corners into usable space. You can simply wedge it at the center of an L-shaped desk. This piece of handy accessory is compatible with all Workrite keyboard arms and can be used with a variety of Workrite platforms.

Features
Easy to install
Compatible with all Workrite arms
Conveniently transforms corner into usable space
Technical Drawing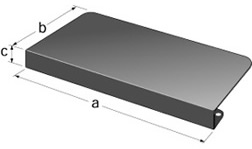 Specifications:
Width: 26"

Depth: 15"

Thickness: 1.5"

Color: Black

Workrite Platform:
Options(Compatibility)
188, 488, 2180S, 2181SN, 2100FT, 317RL, 2110D, 2110RL, 2110RLN, 321RL, 180, 187, 487, 385RL, 386RL, 482, 483, 485, 486, 182, 183, 185, 186

Payment & Security
Your payment information is processed securely. We do not store credit card details nor have access to your credit card information.