Innovative Winston Desk
Sold out
Original price
$447.30
-
Original price
$504.70
Turn your desk into a standing one in just a few minutes. The Winston Desk has a gas-assisted lift mechanism so you can easily switch between sitting and standing modes. It houses an upper surface for your display monitor and a retractable lower deck for keyboard and mouse. It is a simple sit-stand solution for your office.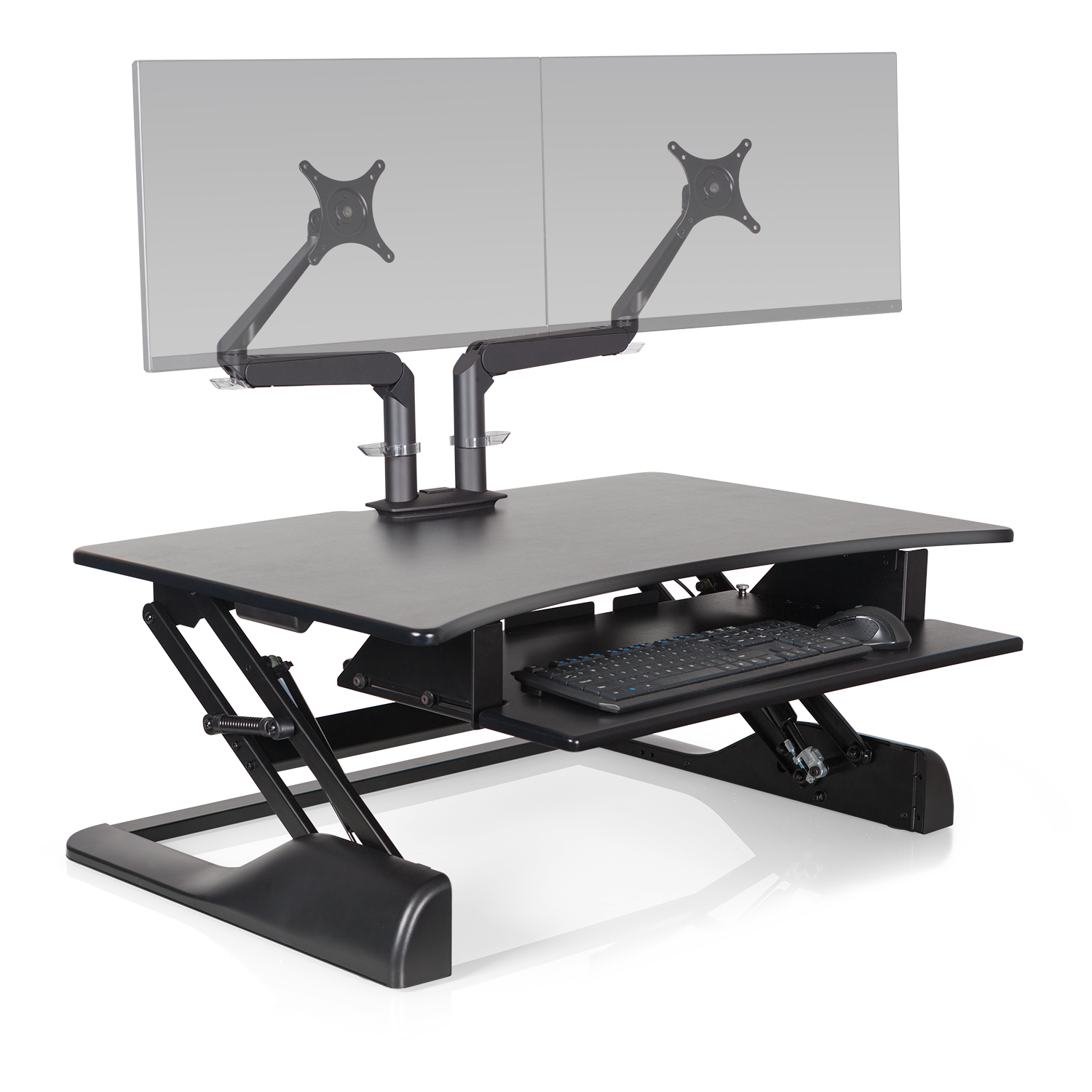 ---
---
Upon delivery, The Winston Desk comes fully assembled, so you don't need to install or assemble anything. Just put the monitors on top and place the keyboard and other accessories in the lower deck, and you can now start your work immediately.
---
Easily raise and lower the Winston Desk to the exact height that you would like by simply pulling on the handle and releasing to the desired height.
---
Its solid base ensures a stable work surface along its vertical range. It also makes the Winston Desk strong enough to support up to 35 lbs of total weight.
---
Vertical range: 5.4" to 18.4"
Weight capacity: Supports up to 35 lbs (15.8 kg)
Base dimensions: 34.6" W x 24.3" D
Desktop dimensions: WNST-DESK- 36 and WNST-DESKCR- 36: 36.0" W x 27.4"-30.9" D WNST-DESK- 42: 42.0" W x 27.4"-30.9" D
Desktop thickness: 0.6" (minimum 1.5" off desk)
Color: WNST-DESK- 36 and WNST-DESK- 42: White, Black
WNST-DESKCR- 36: Black
Available in three versions: 36", 36" corner, and 42". (The 36" corner model, WNST-DESKCR-36, is specially designed for corners or L-shaped desks.)
A gas-assisted lifting mechanism for raising and lowering the desk.
The upper desk surface has a 0.5″ bolt-thru hole and a reinforced edge. An optional monitor arm can then be mounted thru-desk or with a desk clamp.
The lower work surface that holds the keyboard and mouse can be retracted for comfort.
Solid base provides a stable work surface along the vertical range of Winston Desk.