Description
The Vektor RGB Gaming Mouse is a professional-grade eSports mouse designed to boost your control, comfort, and performance. The Pixart Optical sensor can be adjusted from 50 to 5000 DPI for the ultimate in sensitivity control. Genuine Omron switches deliver tactile feedback, incredible accuracy & 20M click durability. Use the Windows Configurator App to assign custom hotkeys, macros, or rapid-fire clicks to any of the six programmable buttons. The lightweight chassis (<100g), rubber side grips, and ambidextrous contoured shape keep your hand comfortable and relaxed to boost your stamina. The Vektor features Dual-Zone, 16.8M color RGB lighting. Create custom color combinations using the color palette or select from one of 6 different lighting modes for a signature look.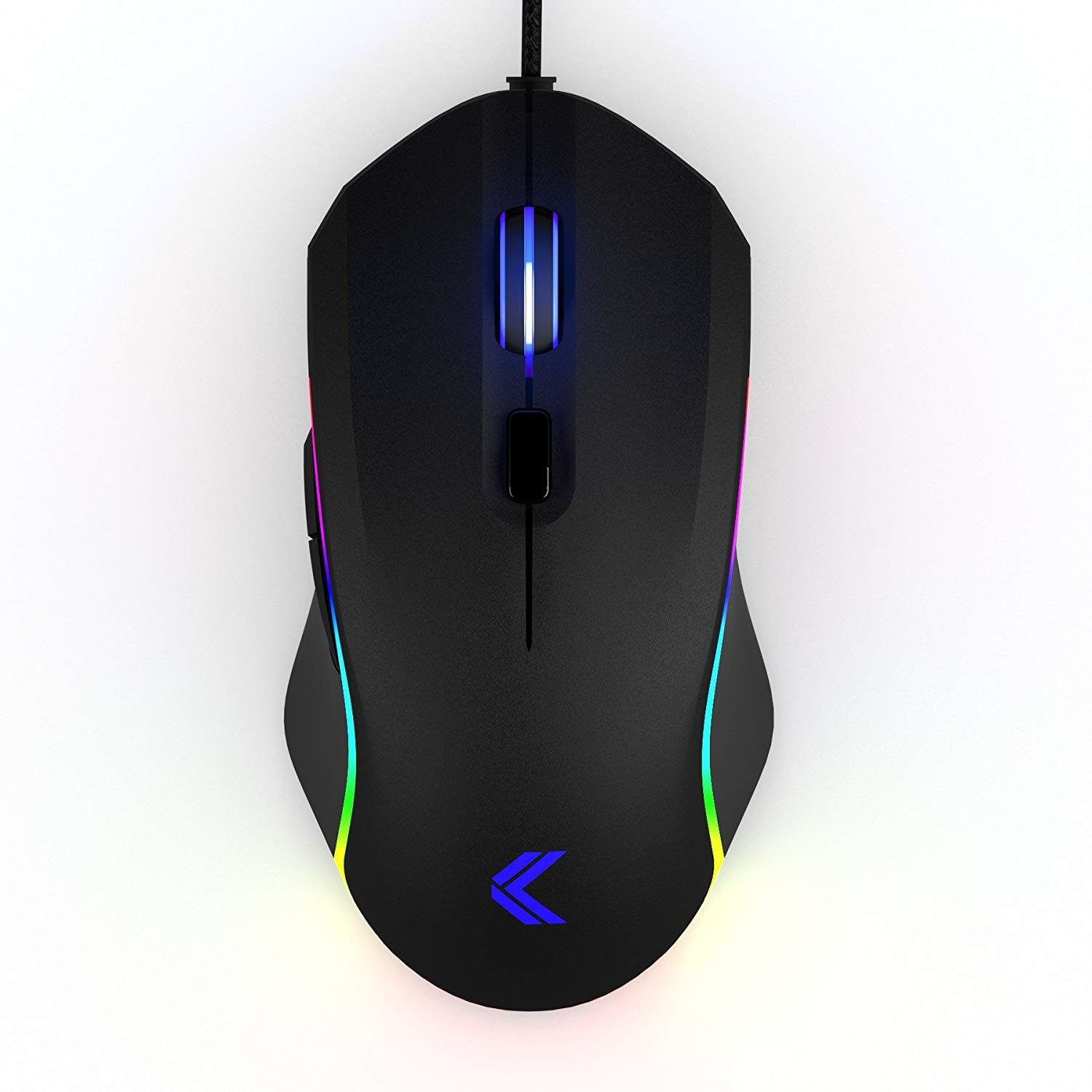 ---
Professional gaming mouse - This is quality you can feel. Gaming-grade Optical sensor, engineered for pinpoint precision. Genuine Omron switches deliver tactile feedback, pinpoint accuracy and 20-million click durability.

Easy customization - boasting a 6-button FPS design with easy programmability for macros, hotkeys and rapid-fire actions via the Downloadable Windows Configurator app. Take advantage of the 5 DPI presets (500 DPI, 1000 DPI, 2000 DPI, 3500 DPI, 5000 DPI), or create a custom DPI setting in between.
---
Gaming-grade optical sensor
---
Use the 5 DPI presets (500 / 1000 / 2000 / 3500 / 5000), or create your own custom sensitivity level
Contoured ergonomic shape
---
Lightweight, ambidextrous gaming mouse with rubber side grips designed to maximize your comfort & stamina.
---
Dual-zone lighting with unique LED strip, 16.8M RGB available colors, and 6 unique lighting modes.
---
Died within weeks wouldn't buy again harsh
Product only worked for a couple of weeks. Really disappointed.
Great mouse
Works great out of the box, but after customizing it with the downloadable software I couldn't be happier. It is just perfect. Feels soft and great on the hand, lights are pretty and customizable. The precision is awesome.
The adjustable sensor is what I needed
Finally found a mouse where the adjustable sensitivity is where I need it to be. I have been going through the settings to get where I am happy and this offers enough customization on that front where it is almost perfect. If it were fully ambidextrous it would get 5 stars. I am the user that takes the mouse settings in Windows and maxes out the speed - that combined without how easy it is to adjust this mouse means that I finally get the experience that I want. I can easily slow it down for work and then move it back up for gaming.
Very nice for the price
My son asked for a Razer mechanical keyboard for his birthday when he was 14, and after I was convinced that he *Needed* it, got him another piece every year, until he went to college. I have since gotten myself a chroma, not entirely necessary, but I like it. I have not, however, gotten all the accessories.This mouse is being used on our family computer. It was very easy to set up. and made it more enjoyable as soon as it was plugged it. We have a logitech gaming keyboard, and some razer headphones (which will probably wind up in Our son''s hands eventually). I would say our needs are modest by comparison (and, in facty, they are) but his sister moved back home a few months ago, and having left everything she owned behind. os now using this computer.The mouse is precise and cycles through 16.4 million colors without programming. I am not sure if we will be able to synch the equipment since it is all from different manufacturers, but given that each piece cost 1/2-1/3 of what I paid for my son's equipment, I can live with that.Kinesis says that macrtos can be programmed. That is not something I have needed to do, but my daughter very well may after she takes over the computer in our living room.Given that I haven't tested the limits on thios mouse, I can say that it is easy to set up and easy to use, produces a simple cycling light display without programming, is not just useable, but more accurate than the mouse we had been using,. and is a great buy if you are someone you know are looking for a little color without a large expenditure.
My fav mouse!
It's so lightweight and an insanely responsive mouse. I love the RGB lights on it too.
Payment & Security
Your payment information is processed securely. We do not store credit card details nor have access to your credit card information.