Description
ERGONOMIC VERTICAL MOUSE IMOUSE

The wrist-friendly contour of the Adesso vertical mice allows you to hold your hand in a neutral "handshake position", minimizing your forearm muscles from twisting and the possible development of Carpal Tunnel Syndrome. Normally, your forearm muscles are twisted from sitting flat on the supporting surface when using a regular mouse.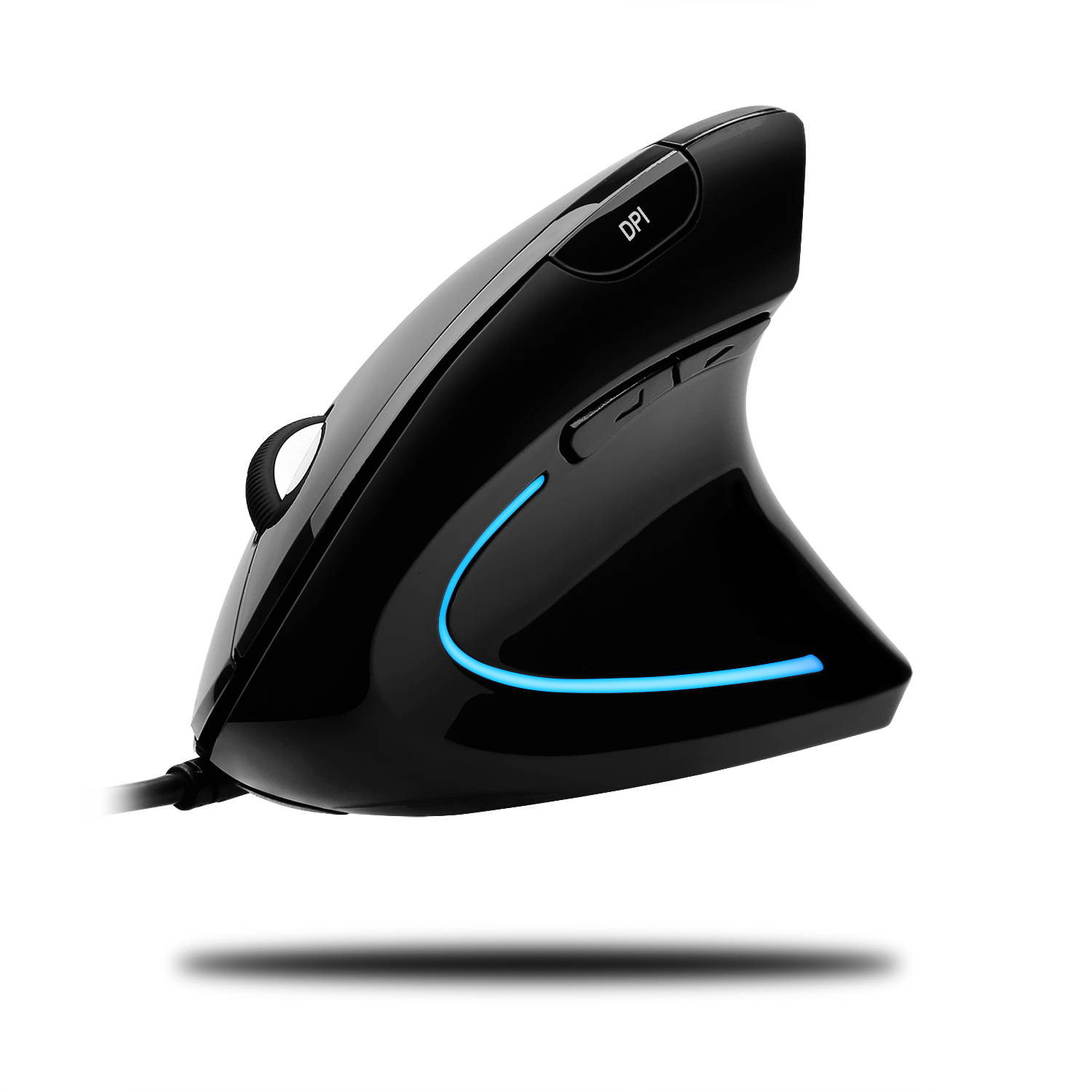 This iMouse E1 Illuminated Vertical Ergonomic Mouse is designed with a vertical orientation and a contoured shape that provides a uniquely comfortable user experience. With this wrist-friendly contour support, you will hold your hand in a healthy "handshake position" which is the neutral position of your forearm. This feature prevents your forearm from twisting when using this vertical ergonomic mouse. Featuring two ergonomic buttons that are located conveniently on the side of the mouse allowing seamless back and forth browsing. The 1000/1600 switchable DPI control provides two levels of mouse cursor speed that works in different environments. The advanced optical sensor technology keeps the mouse precisely on point and lets you work on most glass, wood, marble and leather surfaces without a mouse pad. Finally, the iMouse E1 is plug and play and requires no drivers. Simply plug into any available USB port and be ready to enjoy a different kind of mouse experience!
Specifications:
Tracking Method: Optical Sensor
Connectivity: USB
Resolution: 1000/1600 DPI
Buttons: 6 Buttons (Left & Right Click, Back & Forward, DPI Switch, Scroll Wheel)
LED Color: Blue
Hand Orientation: Right Hand Orientation
Dimension: 3.0″ x 4.7″ x 2.5″ (75 x 125 x 63 mm)
Weight: 0.3 lb. (113 g)
Certificates: FCC, CE, ROHS, IC
System Requirements:
Operating System: Windows® 2000 / XP / Vista /
Payment & Security
Your payment information is processed securely. We do not store credit card details nor have access to your credit card information.