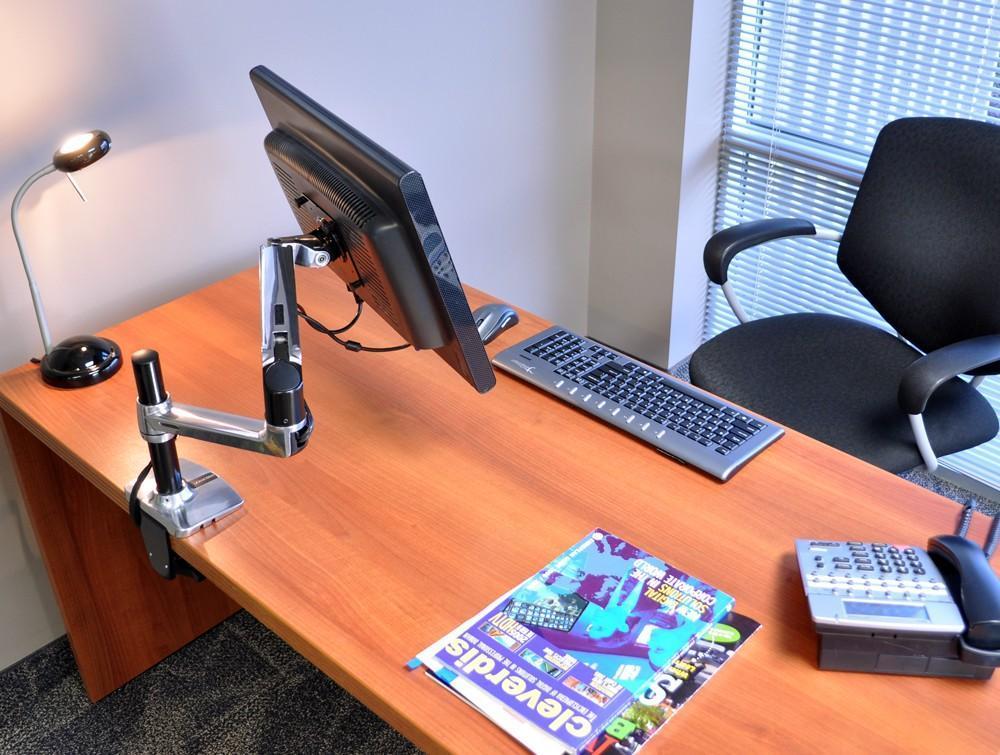 The Product
Maximizing comfort and productivity are two extremely important things when you are behind your desk, and one can't be done without the other. Distracting neck and shoulder pains can be a problem and get in the way of what you need to get done. A solid, maneuverable monitor arm could be just the thing to prevent these pains by getting the monitor eye level for you.

There are a few criteria to keep on your mind when selecting a monitor arm. Most importantly, you must make sure that the arm will support the size and weight of the monitor, as well as any attachments that come along with it. Adjustability, weight, and stability are also key to picking out the right monitor arm for you.

The Ergotron LX Monitor Arm fits all of those criteria and more, offering a stable and easily adjustable monitor arm perfect for your workplace or home. A solid build, easy assembly, and maximum maneuverability are among the things you can expect to encounter as we take a close look at this monitor arm.

Strong and Stable
It is extremely important o have a monitor arm that isn't going to rattle around and shake as you work. Sounds obvious, right? But this is a common issue with many arms.

Luckily, with the Ergotron, that is not going to be an issue.

The Ergotron LX is a solid arm with nice, wide desk clamps that ensure that your monitor won't go anywhere as you work. Offering a spring counterbalance system, heavy construction and solid components, this monitor arm will save your neck and back trouble while supporting your monitor.

Sitting on a 7" pole, the LX has a solid base at a good height for some users. Being an adjustable monitor arm, it can of course extend. The LX can extend fully to 17" providing a great range for a variety of different sized people.

Solid
The worst possible scenario with a monitor arm is winding up with one that quite literally will not support your monitor. Apart from being annoying, it can be very dangerous to mount a computer that has the potential to fall on your desk, or even worse, directly on you.

Fortunately, this is not something you will have to worry about with the Ergotron LX.

Because of its strong build, the Ergotron LX is not going to budge. More so than other monitor arms, it really can withstand a great amount of movement without shaking and affecting the monitor. Compared to the plastic construction of many other mounting arms, the polished aluminum build of the LX is far more durable and will give you and your monitor peace of mind knowing that it is not going to collapse on you.

Simple Installation/Operation
The Ergotron LX comes in a shiny, aluminum build that looks great and is easy to assemble. You simply clamp the base to your desk, slide the first arm over the mounting pole and connect the second arm to that. Cables running from the monitor can be easily tucked under the arm and clipped to it so that they are not hanging down.

Once the arm itself is assembled, you are ready to attach any compatible monitor! This arm can hold a monitor that is up to 32" and 20 lbs. Luckily, a one person assembly is all that is required thanks to the limited range of pieces.

The LX features two fully rotational joints allowing for dynamic and easy movement. The attached monitor has a 75o tilt and 360o pan making it easy to reposition and maneuver the monitor to your specific liking, and/or physical need.

Issues
One problem may come only for tall customers. With a maximum height of 17", some taller users may find themselves having to adjust their position in order to be at eye level with their monitor. This is a minor problem and one that is likely to only be encountered by particularly tall customers.

Another concern pertains to the process of running cables through the arm. The arm mount comes with a plastic clip for the cables to run underneath it, but the clip itself is not as durable as the rest of the product and can be a little tricky to hold the cables.
The final issue with the LX is the instructions themselves. The manual isn't very clear on what needs to be done. The good news is that the actual assembly itself is pretty easy.
Still, if you are the sort of person who is very dependent on instructions, you may encounter some issues.

Pros:
Wide range of motion
Can withstand vibration and movement
Customer support from the company
Comes with two mounting options
Cons:
Slightly confusing instructions
Difficulty clipping the cables under the arm with the provided plastic clip
Maximum height could be slightly higher
Conclusion
In conclusion, the Ergotron LX Monitor Arm is a versatile and strong unit that does what it promises to the customer as well as much more. Compared to other monitor arms, the LX is stronger, sleeker and more resilient to movement and vibration, rarely affecting what is actually up on the monitor.
This mount looks very nice, is easily assembled, functions phenomenally, and is very durable relative to the other options on the market.
As mentioned before, some users may run into a little trouble when it comes to clipping the cables under the wire. However, as far as we are concerned, this is a small issue in the grand scheme of things The pros far outweigh the cons here, making this a great option for buyers that
want the best monitor mounting arm they can get.
---