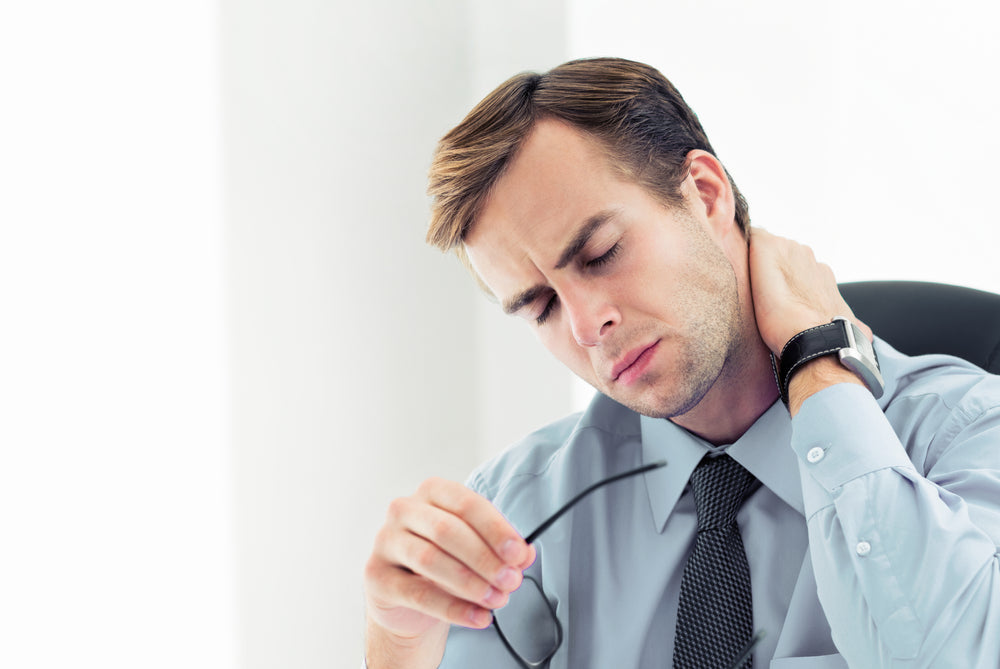 Say Goodbye to Neck Pain Stress: Best Monitor Mount for a Comfortable Setup
Say goodbye to neck pain and work stress with a monitor mount! Optimize your workspace, reduce strain, and enhance productivity. Find your perfect solution now.
Today's fast-paced digital world is run by computers. A lot of us who use the computer for our work spend a considerable time of our day working in front of computer screens. But prolonged hours of improper monitor placement can cause discomfort, strain, and even chronic neck pain. It negatively affects your productivity, efficiency, and even your health.

That's why you need a reliable monitor mount. This is among the modern and healthy workspace essentials that offer a simple yet effective solution to optimize your work setup. By enabling you to make precise adjustments in height, tilt, rotation, and even the option for single or multi-monitor configurations, these mounts provide several benefits that can transform your workspace into a modern, healthy, and productive one.

Let's discover the many benefits of using a monitor mount and explore the top options that are available in the market today.
Why You Should Install a Monitor Mount
Whether you're working in a corporate office or a home office setup, a monitor mount should be one of the healthy workplace essentials to consider purchasing. Here are some benefits of incorporating a monitor mount:

Ergonomic Advantages 
One of the causes of neck pain, eye strain, shoulder and back pain, and exhaustion when working is a badly positioned monitor. Say goodbye to that with a monitor mount.

A monitor mount allows you to adjust the height, tilt, and rotation of your monitor to achieve the most optimal viewing position. This promotes proper ergonomic alignment, minimizing eye strain and reducing neck and back pain. By positioning the monitor at eye level, you can maintain a more comfortable and natural posture during long hours of computer use.

A high-quality mount is one of the modern and healthy workspace essentials that help reduce stress and helps you work in a healthy, relaxed way.

Multi-Monitor Setup
If you're working with multiple monitors, then a monitor mount is invaluable. It allows you to align and arrange your displays in a way that suits your needs, whether side by side or in a stacked configuration. The freedom and versatility of being able to adjust multiple monitors easily enhance multitasking capabilities. Multiple applications or documents visible are simultaneously visible and accessible, improving efficiency and workflow.
Flexibility and Adjustability
Monitor mounts provide a wide range of adjustability options. This includes height adjustment, tilt, swivel, and rotation. Some monitors even allow you to position your monitor in a landscape or portrait You can position your monitor or monitors precisely to your preference. Because of the mount's adjustability, you can accommodate different tasks. For example, you can easily rotate the screen to share content with a colleague. 
Cable Management
Most desktop computer peripherals use cables to interface with other computer equipment. They also utilize cables to draw electricity from power outlets. These cables can become messy tangles that are unsightly and inconvenient. Fortunately, many monitor mounts come with built-in cable management systems. They help keep your cables organized and tangle-free. They not only enhance the aesthetics of your workspace but also protect your cables from fraying.

Finally, cable management systems can reduce the chances of you tripping over cables, making your workplace safer.
Improved Viewing Experience
With a monitor mount, you can achieve optimal viewing angles, which subsequently reduces glare and improves your monitor's color accuracy. This is especially crucial for professionals who rely on precise color representation such as graphic designers, photographers, or video editors.
Recommended Monitor Mounts
With so many monitor mounts in the market, it can be challenging to choose the right one for your home office setup, workstation cubicle, or corporate office. Here are three high-quality monitor mounts that we highly recommend for your workplace.
7500 Heavy Duty Single Deluxe Monitor Arm
The 7500 Heavy Duty Single Deluxe Monitor Arm is ideal for any workplace layout. Quickly raise, lower, tilt, or rotate your monitor with just one hand. The mount's patented spring-assisted HD tilter mechanism allows smooth pivoting of the monitor. Its integrated FLEXmount technology provides you with six mounting configurations and options.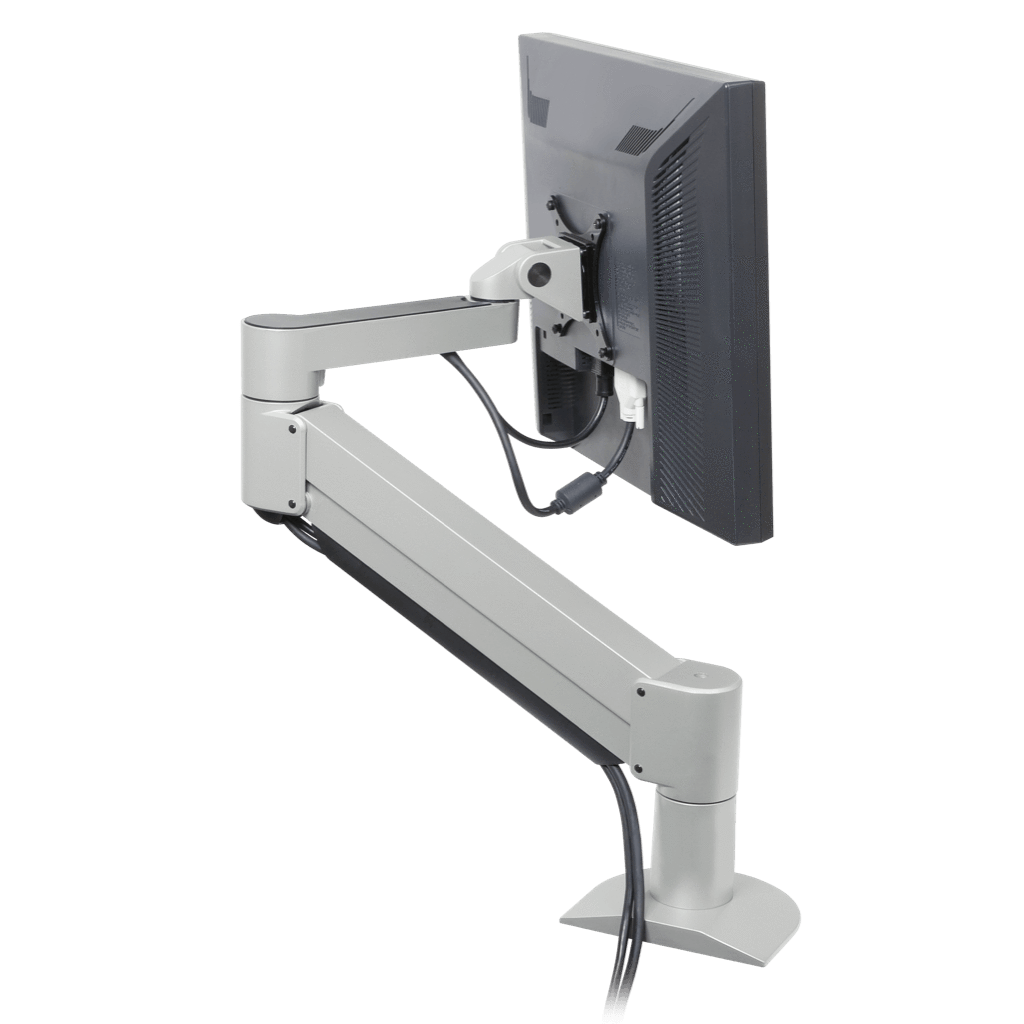 It has features that simplify your workspace, such as an integrated cable management system and its fully foldable arms. The latter allows you to fold your entire setup into 4.5 inches of space. This frees up even more room for your desk. However, it can extend as far as 27 inches. It can raise to a maximum height of 18 inches, with an optional 6-inch extender tube if you need additional height.

The 7500 Heavy Duty Single Deluxe Monitor Arm is Approved for AFRDI Standard 126:2001 Level 3, assuring you of strength, safety, durability, and stability.
R-Go Zepher Double Monitor Arm Mount
The R-Go Zepher Double Monitor Arm Mount is ideal for people working with two monitors. The product features an innovative modular and circular arm that enables you to independently adjust the height, depth, and angle of both monitors. Thus, you can easily and quickly tailor your workspace setup to optimize the viewing experience, enjoy ergonomic benefits, ensure maximum comfort, and increase efficiency as you work.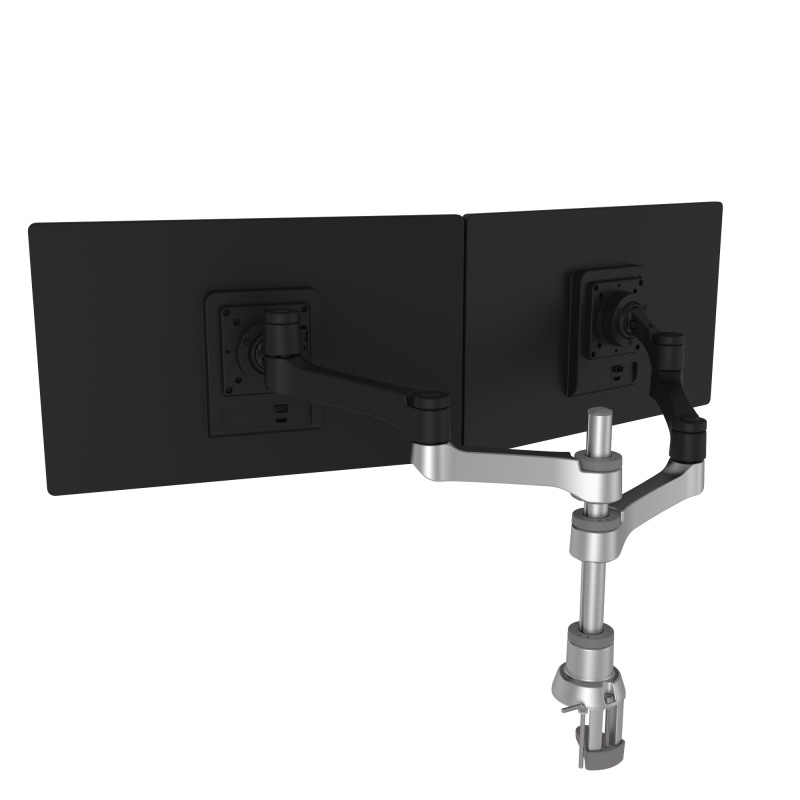 The double monitor mount has a small footprint to maximize desk space; just clamp it to your table edge. A grommet clamp allows you to install the mount on pre-drilled cable holes. Installation is easy and does not require tools. An integrated cable management system routes cables discreetly.

The R-Go Zepher Double Monitor Arm Mount has a 40-degree tilt, 360-rotation, and 180-degree swivel. It can be raised from 11.5 to 19.6 inches. The mount can extend from 8 to 22 inches.

Finally, if you purchase the R-Go Zepher Double Monitor Arm Mount, you are purchasing an eco-friendly product thanks to its aluminum construction. It's great to know that while you're working, you're reducing your carbon footprint. The durable construction of this double mount ensures that you'll enjoy this trusty product for years to come.

Ergotron DS100 Dual Monitor Desk Stand
If you have limited desk space but you're using two monitors, then the Ergotron DS100 Dual Monitor Desk Stand is the perfect computer peripheral for you. Unlike other dual-monitor arms, which orient the monitors horizontally, this product mounts your screens vertically on top of one another on a single base. This configuration helps you retake your desk real estate. The low-profile base is well-balanced and compact, taking up a small space on your desk.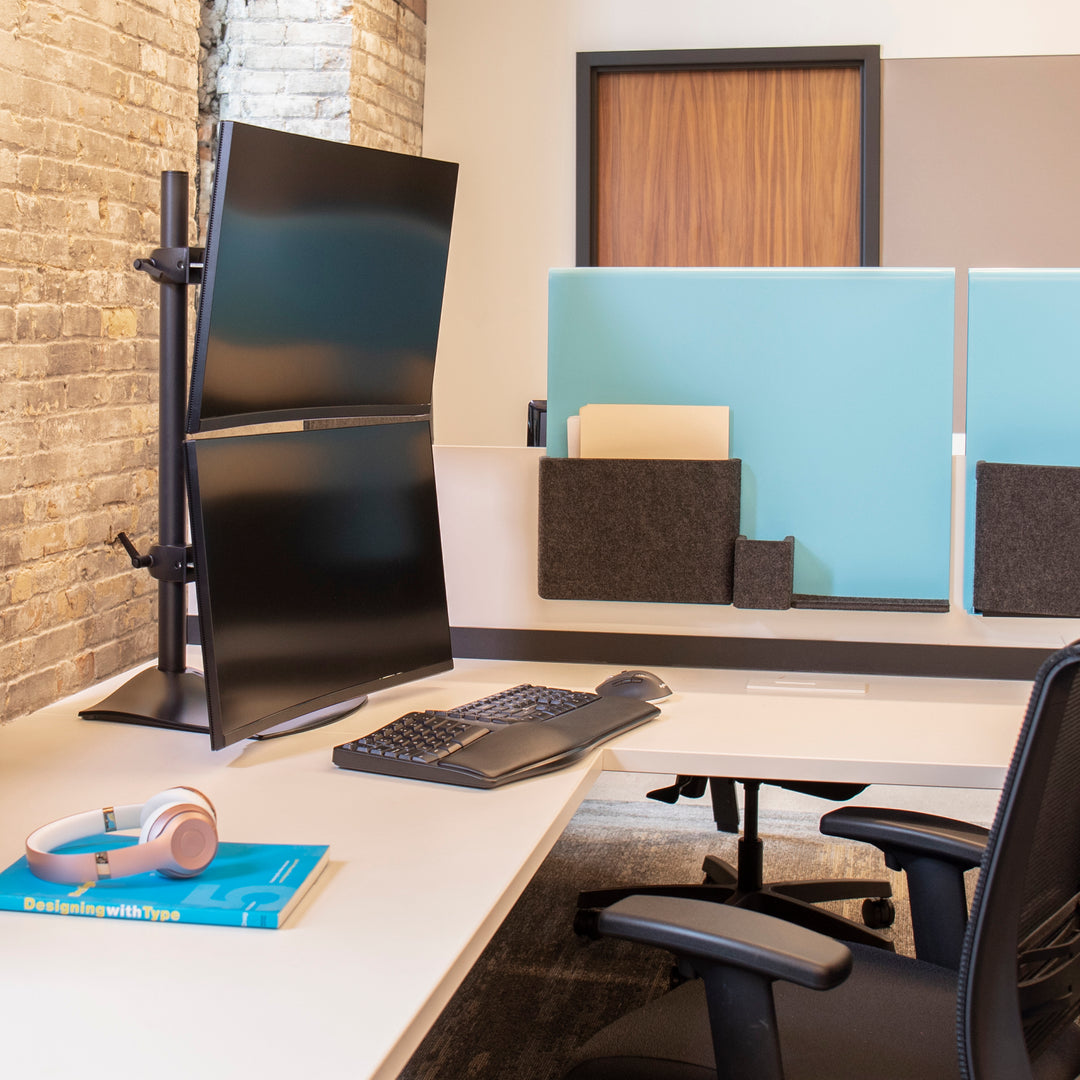 You can raise or lower your computer screens to a comfortable and optimized viewing height, angle, and tilt. The mount can support two 27-inch screens that weigh 23 lbs. each. A cable management system conceals and organizes cables for a neat workspace.
Who Can Benefit from Monitor Mounts
Monitor mounts can benefit a wide range of individuals. Here are just some of them:
Office Workers
All kinds of professionals who spend most of their days working in front of a computer can significantly benefit from monitor mounts. The ergonomic features of these mounts help reduce stress, exhaustion, eye strain, and more. Think of it as stress-relief office equipment that helps boost productivity and efficiency.
Creative Professionals
Graphic designers, video editors, photographers, and other creative professionals heavily rely on the precise color representation. A monitor mount enables them to see accurate colors, hues, temperatures, and more. Also, by creating a multi-monitor setup, these mounts enable simultaneous work on multiple projects and real-time comparisons. This flexibility enhances the overall creative process and improves workflow.
Content Creators
Content creators often use multiple displays for their gaming sessions, streaming, or video editing. A monitor mount provides the flexibility to position screens at optimal angles, reducing glare and improving the content creation experience.
Healthcare Professionals
Doctors, radiologists, medical technicians, and other healthcare professionals usually work with diagnostic imaging screens or electronic medical records. A monitor mount lets them adjust the position of their monitors, ensuring optimal visibility, minimizing eye strain, and allowing accurate viewing of medical data.
Individuals with Limited Desk Space
Mounting the computer screen on a monitor stand helps free up precious desk space. This is a boon for people with limited desk space.
Collaborative Workspaces
Monitor mounts are helpful in collaborative settings such as conference rooms, coworking spaces, or educational institutions. They allow easy screen sharing and rotation, allowing participants to view presentations, data, or content from different angles
Conclusion
Any of the monitor mounts featured in this article can help create a comfortable work environment that enhances productivity, efficiency, stress relief, and proper working posture. By prioritizing ergonomics, optimizing space, and offering flexibility positioning, a quality monitor mount can alleviate neck pain, reduce strain, and enhance your overall well-being, leading to a healthier lifestyle.
Check also our article on managing screen time for a better you.
---