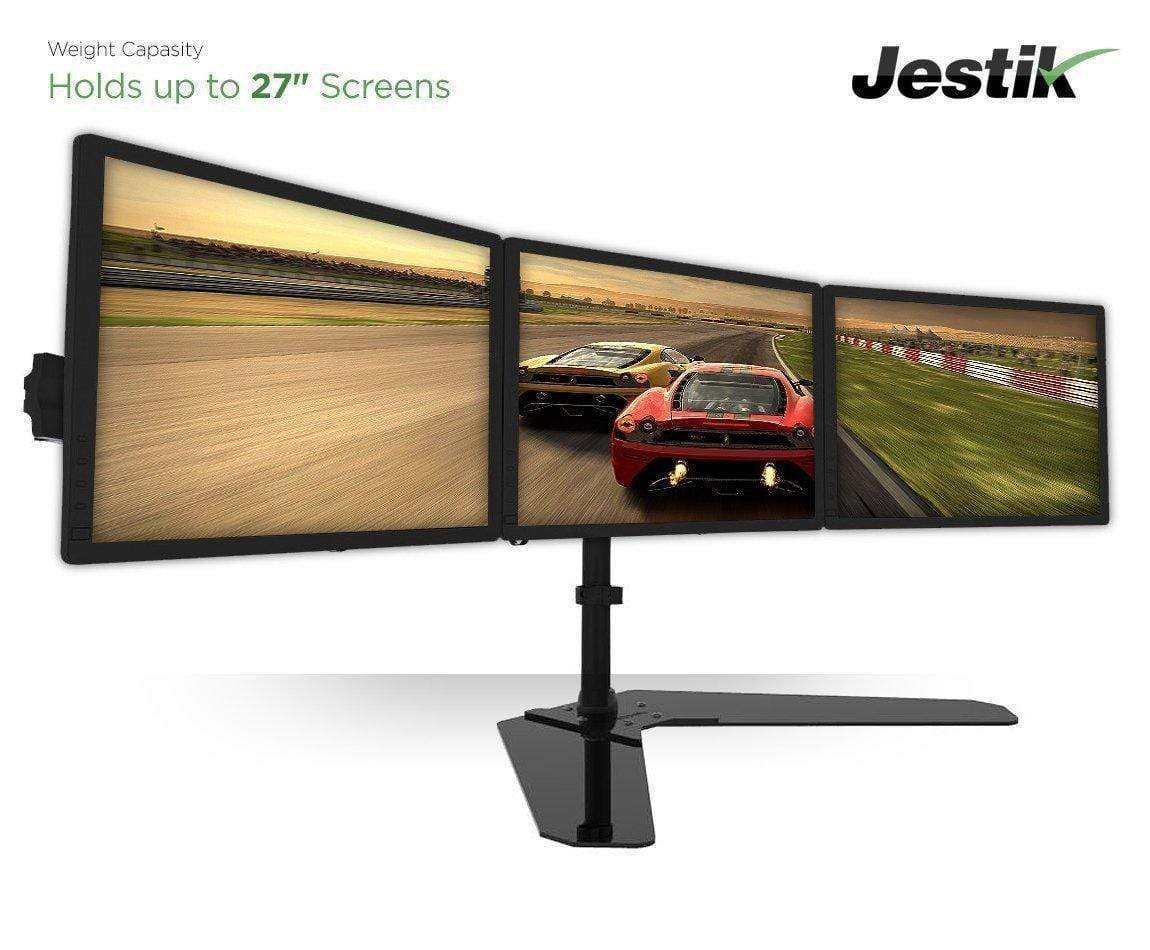 The Jestik Sit Stand Workstation
When you sit for too long at a desk, negative effects start to accumulate in both your body and mind. Your back aches from slouching, your wrist hurts from maintaining a static position on the mouse, and your legs may feel restless or numb from the edge of your seat. The Jestik Shift sit-stand workstation provides much-needed physical relief, health benefits, and better focus on important tasks while at work.
When you're ready to stand and stretch your legs, it couldn't be easier – a quick squeeze of the handle is all it takes to adjust the gas-assisted lifting mechanism to the perfect height for you. Simply add the accessories you need to tackle your to-do list: a computer monitor, laptop, mouse and mouse pad, and any other desk items you need close at hand and they'll travel up with you. A built-in connection hole allows you to add the monitor arm of your choice, building in both comfort and customization to your sit-stand experience. Underneath, special silicone protection pads keep surfaces safe from scuffs, giving you a worry-free solution to combat aches and restlessness at your desk.

Your desk works as hard as you do: so why not give it a promotion? The Jestik Tabletop Workstation gives you a state-of-the-art ergonomic experience without the necessity of new office furniture. Whether you're looking to improve your experience and health at a traditional job or give yourself great health benefits as you work from home, you've found your solution.

The Jestik Tabletop Workstation gives you the ability to maintain healthy blood flow in your legs and body by eliminating the dreaded "desk slouch" - an important consideration for those that spend hours in front of their computer everyday. No plugs to plug in and no charging demands make it ideal for corners that would otherwise go unused – enabling you to work from anywhere.

It may be conveniently compact, but don't let the innovative footprint fool you – this hardworking sit-stand desk converter is packed with features to make your workday one you'll look forward to... even on Mondays! Here's what you'll get with the Jestik Tabletop Sit-Stand Workstation:
Features
Gas-Spring Mechanism: Does all the work of lifting for you for infinite height customization.
Squeeze Handle: Puts manual sit-stand functionality at your fingertips – literally!
Large Work Surface: From laptops to files, you'll have all the space you need to get things done.
Embedded Top Groove: Keep phones and tablets nestled in for easy operation while standing.
Monitor Arm Hole: Attach your favorite monitor arm to make this sit-stand desk your own.
Durable Materials: Steel meets plastic, PVS, and MDF for multi-media strength and longevity.
Silicone Pads: Leave your desk surface or corner clean and scuff free with built in cushioning.
SPECIFICATIONS:
Vertical range: 4.3" to 19.9". Adjustable for taller and shorter people
Weight capacity desk surface: supports up to 33 lbs
Keyboard tray: dimensions: 30" L x 16.1" W
Desk surface dimensions: 37.4" L x 25.4" W
Desk surface thickness: 0.59"
Mounting option: Tabletop stand
---