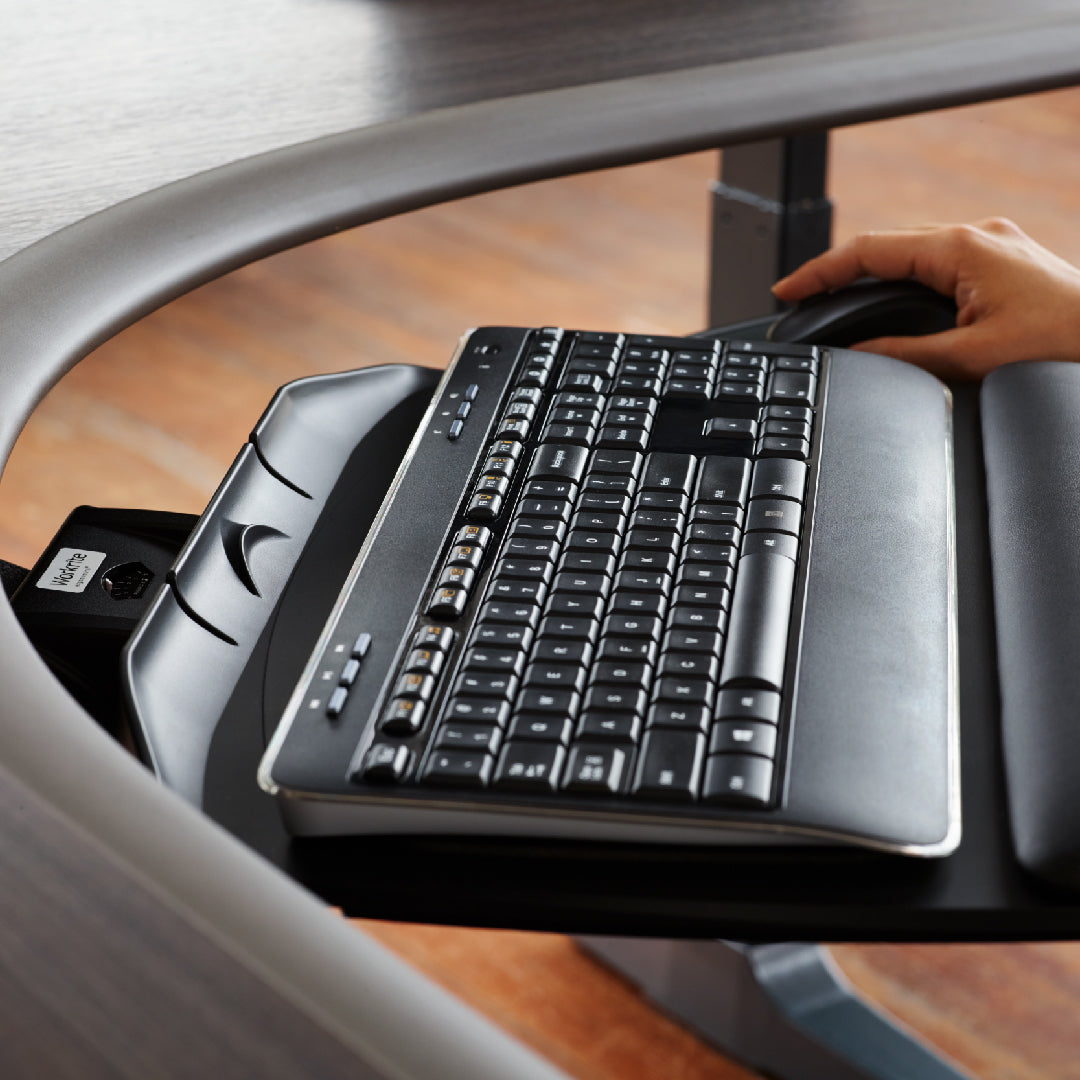 Top Ergonomic Keyboard Trays of 2023
Suffering from discomfort and injuries due to hours of typing or gaming? Check how a keyboard tray can help you reduce or avoid these issues.
Typing or gaming for hours can be quite strenuous, exhausting, and stressful. Unchecked, it could lead to carpal tunnel syndrome or repetitive stress injury. Proper typing posture is essential and can be achieved using an ergonomic keyboard tray installed on your desk.

What is a Keyboard Tray
A keyboard tray is a computer accessory you can set up on your table. It's a secondary platform enables you to adjust or position your mouse and keyboard independently from your desk. Keyboard trays can be disengaged from the desk or slid under when not in use.

A keyboard tray for a keyboard and mouse makes typing healthier, better, and more comfortable.
Top Keyboard Trays
Here are our top-selling keyboard trays for desktop computers.
Workrite
Banana Board
Keyboard Tray
The Workrite Banana Board Keyboard Tray is an ergonomic keyboard tray that works with both straight edges and corners. It can fit conveniently right under your desk.

Features
ergonomic design

a kit to manage messy cables

built-in document holder

swivel reversible mouse tray, which can be positioned on either side. Ideal for either left or right-handed users

removable memory foam palm support

auto-lock mechanism
Humanscale 6G Under Desk Keyboard Tray System
The Humanscale 6G Under Desk Keyboard Tray System allows you to work in a healthy, neutral, and relaxed typing position.
Features
separate trays for keyboard and mouse. Raised mouse tray

adjustable negative tilting via a dial system

adjustable height with no locks, controls, or levers

raised tilt mechanism to prevent the keyboard from hitting and bumping with the desk edge

thin profile for optimal knee clearance

durable and lightweight
What to consider when choosing a keyboard tray?
Here are some tips for choosing the right keyboard tray for you.

Make sure the tray can fit on your desk, especially if you're choosing an

under desk keyboard tray

.

The tray should be big enough for your keyboard and mouse.

Choose a sturdy tray since it will need to carry the weight of your hands. Cheap, flimsy ones can easily break.

The more adjustability the tray has, the better. You can position the tray---and thus your keyboard and mouse setup---whatever way you want.

If possible, choose a keyboard tray with ergonomic features such as tilting and palm-rest cushions.

Take note of the installation procedure. Some require that you make modifications to your table, which could alter or damage the latter.
Common Ways to Install a Keyboard Tray
Each brand or model of keyboard tray has its method of installation. Let's list down some of them.
Clipping the keyboard tray on the table via a rotating clamp

Attaching the keyboard tray to the table permanently via screw

Installing drawer slides for a sliding keyboard tray

Installing anchor points for foldaway keyboard trays
Check the manual for specific instructions on how to install yours.

Conclusion
Is it necessary for you to buy any of these
keyboard trays
? While some may say it's optional, we'd like you to reconsider. A keyboard tray helps prevent carpal tunnel syndrome and repetitive stress injury. It also encourages the user to maintain a proper typing posture. It's a great and useful accessory for your use.


You should also check the ergonomic essentials to level up your work or gaming experience.
---