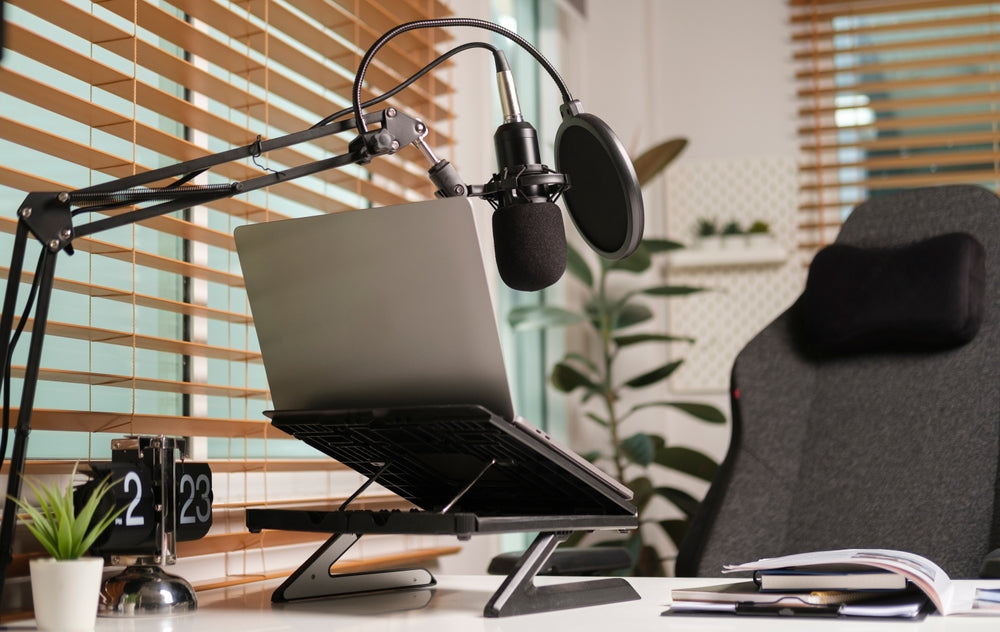 Home Office Accessories to Improve Efficiency
Planning on upgrading your home office? Discover the must-have home office accessories that can help you work more efficiently and increase your productivity.
Due to the Internet, modern apps, and changing business policies, many people can now work at home. It's a welcome change for freelancers, employees, and businessmen as a work-from-home arrangement proves a lot of benefits.

They don't have to spend on gas, fares, lunches, and other expenses related to corporate office work. They can have more time with their families. In many cases, they can work at their own pace and time.

But the demands of businesses never change. Home-based workers still have to produce required outputs and hit goals. In addition to work discipline, a conducive, comfortable, and organized home office with the right tools can help boost performance, efficiency, and quality.

Let's check out some accessories and tools that you may want to consider when upgrading your home office.
Recommended Home Office Desk Accessories
Check out these home office and desk essentials to make your workspace a joy to work in.
Workrite Banana board Keyboard Tray Model 2128-22
The height-adjustable Workrite Banana board Keyboard Tray Model 2128-22 is a cool accessory that increases typing speed. The keyboard tray has a 25-degree tilt so that you can position your hands, wrists, and forearms in a natural, neutral position. A removable memory foam wrist rest conforms to your wrist to allow excellent support as you type. Both right-handed and left-handed users can use the tray since you can simply switch the position of the mouse tray.
The Banana-Board Platform comes with a unique design that works great on straight work surfaces as well as corner applications. The gliding mouse can easily be switched position to either side of the platform to accommodate left and right-hand users.
Other features of the Workrite Banana board Keyboard Tray include a cable management kit, an auto-lock mechanism, and a built-in document holder. The tray is installed under your desk to save space. There's no need to modify or damage the desk.
Goldtouch Go! Travel Laptop and Tablet Stand
The Goldtouch Go! Travel Laptop and Tablet Stand is one of the must-have home office desk accessories. The stand's height can be adjusted in six different positions so you can raise your laptop or tablet to reduce eye strain, lessen neck strain, and keep your shoulders and neck in perfect alignment. You can say goodbye to hunching down, allowing a greater degree of comfort.
The laptop stand is lightweight and can be folded easily so you can travel with it anywhere. It's made from sturdy aluminum and can fit mobile devices with 17-inch screens.
Workrite Rite In Line Document Holder
The Workrite Rite In Line Document Holder allows you to conveniently place documents parallel to your keyboard. This prevents eye, neck, and back strain from consistently looking or glancing at documents sideways. You can use it on standard work desks and adjustable platforms.
The height and angle of the Workrite Rite In Line Document Holder can be adjusted. You can also position it over the front edge or on top of your work surface. Indeed, it's one of the right tools that you should have in your home office.
Innovative WNST-MAT – Winston Mat
The Innovative WNST-MAT – Winston Mat comforts and supports your feet while you work. Made of high-density and durable foam, it follows the contour of your feet, providing superb ergonomic support and long-lasting comfort after long periods of standing or sitting. Use it during work hours or on one of your mini breaks. It's second to your dog napping on your feet!
The Winston Mat is tough, lightweight, and portable. It's also resistant to bottoming out, fraying, or delamination.
Ergotech Freedom Arm
The Ergotech Freedom Arm positions your monitor at the right height and angle to reduce general fatigue, stress, and body strain while you work for long hours. It can rotate 360 degrees, pan 190 degrees, tilt upwards up to 90 degrees, and downwards at 45 degrees. The arm can hold monitors of up to 11.9 pounds with screens up to 27 inches.
Because it has a small footprint, the Ergotech Freedom Arm saves space on your desk. The integrated cable management system prevents tangled messes and helps keep your desk clear of clutter.

The monitor arm is lightweight and can be positioned anywhere on your workstation. Its elegant and stylish look matches any contemporary home office.
Humanscale Nova Task Light
One of the most useful home office gadgets is a good light source, and the eco-friendly Humanscale Nova Task Light is perfect for the task. Custom lenses and high-efficiency Energy Star-certified LED bulbs provide 440 lumens of glare-free illumination. The degree of light can be adjusted to your preference and needs.
Because the lamp is powered by LEDs, power consumption is very low. The task light is fitted with a sensor that shuts off the LEDs when there's one on the table.

The Humanscale Nova Task Light has counterbalanced arms that can rotate up to 180 degrees, providing light wherever you want. Adjustments can be done with one hand. Clamps prevent the lamp from slipping off the table.

HealthPostures 4000 Rocking Footrest
The easy-to-adjust HealthPostures 4000 Rocking Footrest gives you foot mini breaks while you're at work. Simply put it under your desk, step on it, and rock away. The rocking action stimulates circulation, works muscles, and encourages leg movement.
The HealthPostures 4000 Rocking Footrest saves space due to its small footprint. It also has anti-skid feet to keep it from slipping away as you move your feet.

Conclusion
The right tools and home office desk accessories can truly improve your experience and efficiency as you work at home. Try out any of the proven and tested products we mentioned above so you'll look forward to working every day at home.
---