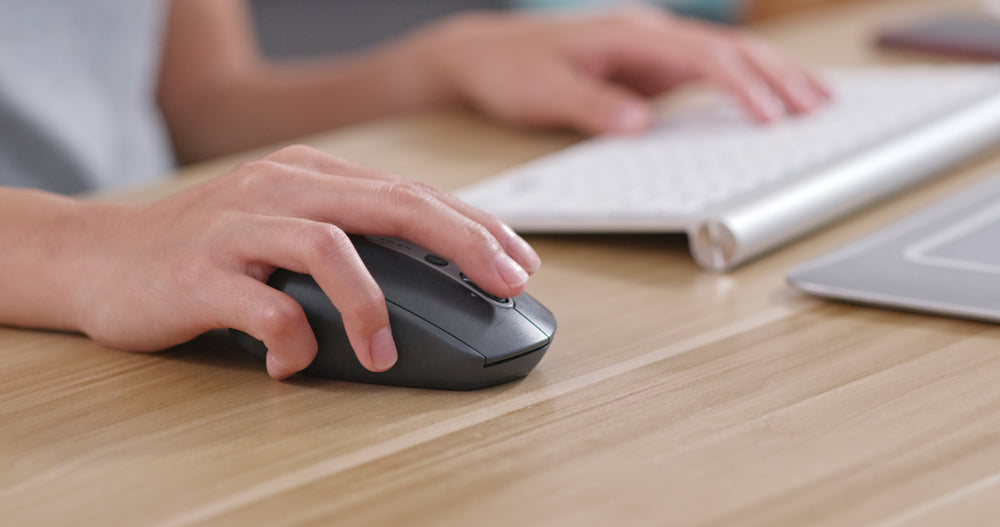 Best Wireless Mouse of 2023
Wondering which wireless mouse works for you? Check our top wireless mice and learn the advantages of using one so you can work more efficiently.
A wireless mouse is certainly a boon for any worker or gamer. Without a cord, your mouse hand movement is not limited. You can also carry your mouse around, allowing great flexibility in your work, home office setup, or gaming location.
Recommended Wireless Mice
Here's a list of our recommended wireless mice---tested products for gaming and office work.
Evoluent Vertical 4 Mouse
The Evoluent Vertical 4 Mouse is designed to improve productivity by supporting your hand in a relaxed, upright neutral position. You don't have to twist your forearm just to use the mouse. The mouse is also designed with an extended bottom flange to prevent your pinky from touching the mouse pad. It has a thumb rest to allow a more secure but relaxed grip.
The vertical mouse has 6 programmable buttons to increase versatility and functionality. The peripheral is compatible with Windows, Linux, and Mac operating systems.
Kinesis PD7DXT Wireless Ergonomic Mouse
The Kinesis PD7DXT Wireless Ergonomic Mouse is a compact wireless mouse for travel, which is perfect for executives, salesmen, writers, field technicians, and other workers on the move. This comfortable mouse can be used by both left-handed and right-handed users. It can accommodate a variety of hand sizes.
This plug-and-play mouse can work up to 30 feet and can operate for up to 2 weeks of normal use. It takes 90 minutes to fully charge the mouse, but its rapid charge system also allows over 2 hours of use after a 30-second charge.

The Kinesis PD7DXT is compatible with PC, Mac, and Linux systems.
Goldtouch Bluetooth Wireless Comfort Mouse
The unique shape of the Goldtouch Bluetooth Wireless Comfort Mouse helps the user avoid hand injuries after working or gaming for several hours. The design ensures that your wrist is positioned at a natural 24-degree angle, taking off pressure on your wrist tendons and joints.
The Goldtouch Bluetooth Wireless Comfort Mouse supports both external and internal Bluetooth adapters. It can also be used with Windows PC and Mac machines.
Goldtouch Wireless Mouse
Using a vertical mouse can be initially uncomfortable due to the peripheral's unique shape. If you prefer a wireless office or gaming mouse with a standard shape, then the Goldtouch Wireless Mouse is for you. It's easy to use and can comfortably accommodate left-handed and right-handed users. There are anti-slip side and base grips for a better grip and the utmost comfort.
The Goldtouch Wireless Mouse has a 1000 dpi optical sensor for smooth and accurate mouse cursor control.  Easy-click buttons and a scroll wheel allow fast and accurate mouse work.


The estimated battery life for the mouse is 4 months using 2 AA batteries. The product is plug-and-play, so you're ready to use it once you plug the wireless receiver into your machine.
Conclusion
This wireless mouse review should give you a good idea of some of the finest mice on the market. It is definitely an office essential, so use any of these tested products to improve productivity, efficiency, safety, and enjoyment.
---