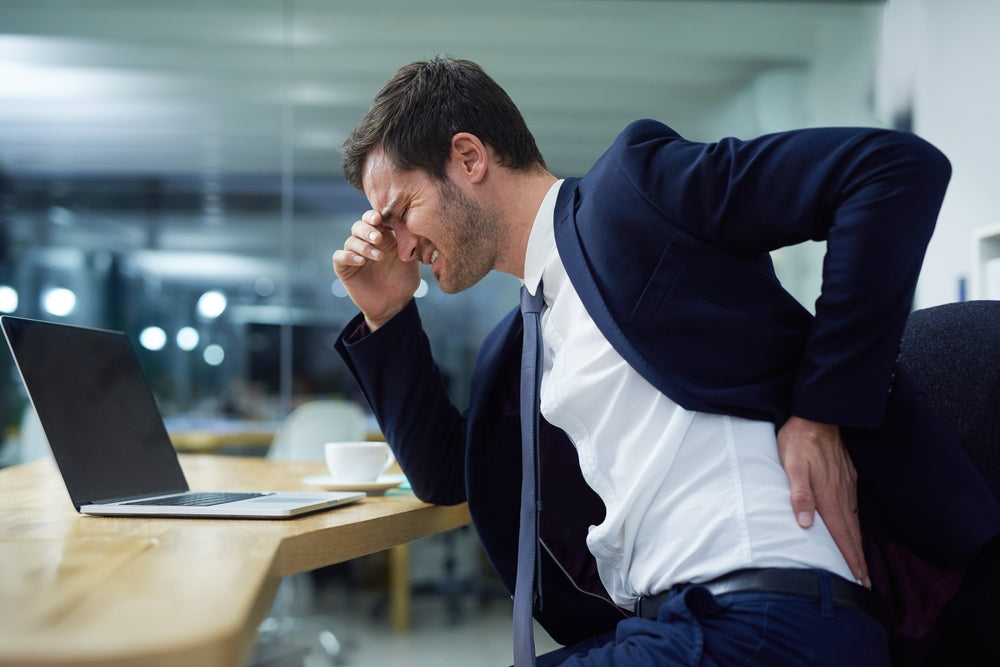 Best Lumbar Support Office Chairs
When looking for modern ergonomic chairs for your office, we recommend getting one with lumbar support. Learn more about how you can benefit from it.
What is lumbar support?
This is a device or a feature that supports your lower back. It helps reduce the strain and keeps you comfortable after sitting for long hours.

But with many options in the market, it can be challenging to find the right lumbar support computer chair. Here's a list to help you out.
Best Lumbar Support Office Chairs
Here are our top 3 choices for the best chairs with lumbar support. Any of these would be ideal for your workspace or game command center.
Eurotech Apollo II
The Eurotech Apollo II multi-function office chair includes a high-back design that provides full back support. Instead of a cushion, an elastic mesh makes up the backrest to keep you cool and comfortable all day long while conforming to your back's shape.
The height-adjustable front-sloping seat cushion lessens stress on the knees. The arms can be adjusted horizontally and vertically, and the adjustable back rest provides optimized ergonomic support. A tension-and-lock mechanism enables you to tilt the chair back and forth. Engage the lock if you want to stay in a certain tilted position.
Humanscale Diffrient World
The Humanscale Diffrient World lumbar support office chair is designed with functionality and ease of use in mind. The chair is engineered in a way that uses the sitter's body weight to adjust its mechanisms.
Thus, when you recline, the seat, backrest, and armrest adjust automatically as you move, providing maximum ergonomic support with every ounce of motion. There's no need to manually adjust anything. The back seat is made of a lightweight patented sensing mesh that conforms to your back to prevent back pain.

The Humanscale Diffrient World eliminates separate lumbar support, which tends to generate a pressure point. There's also no front edge, preventing stress and pressure on the knees and thighs.
Humanscale Standard Freedom
The Humanscale Standard Freedom lumbar support computer chair features a weight-sensitive, self-locking recline system that frees up the hassle of adjusting the chair manually. Whatever your position or motion, the chair automatically adjusts itself for optimal support. It has an articulating headrest, a pair of synchronous armrests, and a counterbalance mechanism.
The cushions comfortably hug the contours of your body, making you comfortable for long periods. Finally, the Freedom chair is made of a lightweight but strong graphite frame for maximum durability and quality.
Types of Lumbar Support
Many ergonomic chairs are equipped with one of these types of lumbar support features.
Fixed Lumbar Support
The support is fixed permanently to the backrest. They cannot be modified or repositioned.
Adjustable Lumbar Support
You can adjust the lumbar back support manually for your need and preference. The support feature can come in several levels.
Dynamic Lumbar Support
This type automatically adjusts to your back based on your weight and posture, giving you constant back support at all times and in every position.
External Lumbar Support
This is a lumbar support that's not designed or integrated into the chair. Separately sold lumbar cushions, throw pillows, or even thick blankets folded several times over are considered external lumbar support.
Conclusion
A chair with lumbar support, especially the high-quality ones listed above, maybe a little bit costlier than most other chairs. However, your back will thank you for it. In the long term, you'll be sitting comfortably and healthily with your investment.
---