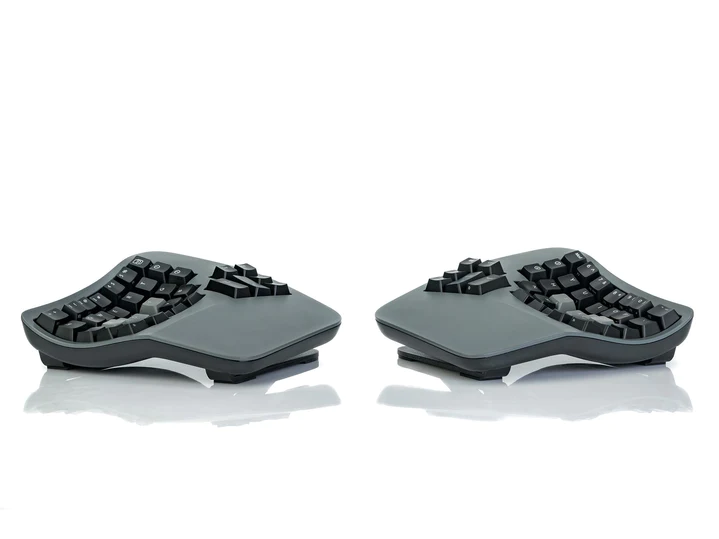 Why Use a Split Keyboard?
Wondering if a split keyboard works for you? Read on to know the purpose of the design and why it could be beneficial to use one.
Using your keyboard is how you work, play, communicate, browse, create, and do other actions on your computer. It's almost impossible to do anything computer-related without this important peripheral. 
Computer keyboards are designed and laid out based on the typewriter keyboard, which was first sold commercially in 1868. The concept of modern ergonomics and human factors did not exist during that period. However, this traditional design is carried on until the present, resulting in keyboards that are not designed to work with human physiological and psychological principles. That's why working or playing using traditional keyboards for long periods can cause exhaustion, tiredness, wrist pain, body pain, or even repetitive stress injuries.

Fortunately, modern designers have realized the importance of ergonomics and incorporated them into their new keyboard designs. One of these revolutionary designs is the split ergonomic keyboard. Let's understand why you should replace your old keyboard with these contemporary and improved counterparts.
Reasons to Use a Split Keyboard
Take the opportunity to invest in a split ergonomic keyboard. Just check out some of the split keyboard benefits you can enjoy if you have one.
Perfect Alignment
Because it can be separated into two halves, a split keyboard allows you to type in the most comfortable and natural position. You can place both halves so that your wrist, arms, and shoulders are perfectly aligned. In general, both halves can be separated within 9 to 20 inches.
Contoured Surface
The best split keyboards, such as the Kinesis advantage 360 have contoured surfaces. That means your wrists and fingers are in a natural and neutral position as you type as they follow the contours. It might take a little while to get used to the unusual position, especially if you're used to typing on a standard keyboard. But the long-term benefits vastly outweigh the temporary discomfort.
Improve Productivity
Because you're typing in a neutral, natural, and relaxed position, you can type faster, longer, and more accurately. Split keyboards, therefore, improve productivity and efficiency in your work.
Longer Periods of Use
Due to their ergonomic design, split keyboards are a favorite of gamers. Because they enforce a relaxed, neutral, and natural typing position, these peripherals allow computer game enthusiasts to play for longer periods. Many split ergonomic keyboards for gaming, such as the Cloud Nine Ergo FS have features that will give users the best gaming experience possible. These features include backlit RGB LED keyboards, programmable keys, media buttons, macro keys, palm rests, and more.
Mechanical Keys
Split ergonomic keyboards are often mechanical keyboards. They're equipped with mechanical keys that are sturdier and longer lasting than typical membrane keyboards. Mechanical keyboards are also easier to clean; simply take off the keycaps and wipe the dirt off - check our "How to Clean a Keyboard" article for more details. Damaged keycaps can be removed and replaced with new ones, and gamers can even install uniquely designed or novelty keycaps for customization.
Save Space
Because they can separate into two pieces, you might think that split keyboards can take up a lot of space. However, there are split keyboards that are compact if limited space is an issue. For example, the Goldtouch V2 features a tenkeyless design, which eliminates the need for a numeric keypad. Control keys are split between the two halves to save space. The compact split ergonomic keyboard fits right in even in tight spaces.
Compatibility
Modern split Ergonomic keyboards are compatible with both PC and Mac.
Conclusion
The best split keyboards can make working or playing on your computer a pleasant experience. We hope this article convinces you to transform your space into a modern, healthy, and ergonomic one, starting with your keyboard.

---