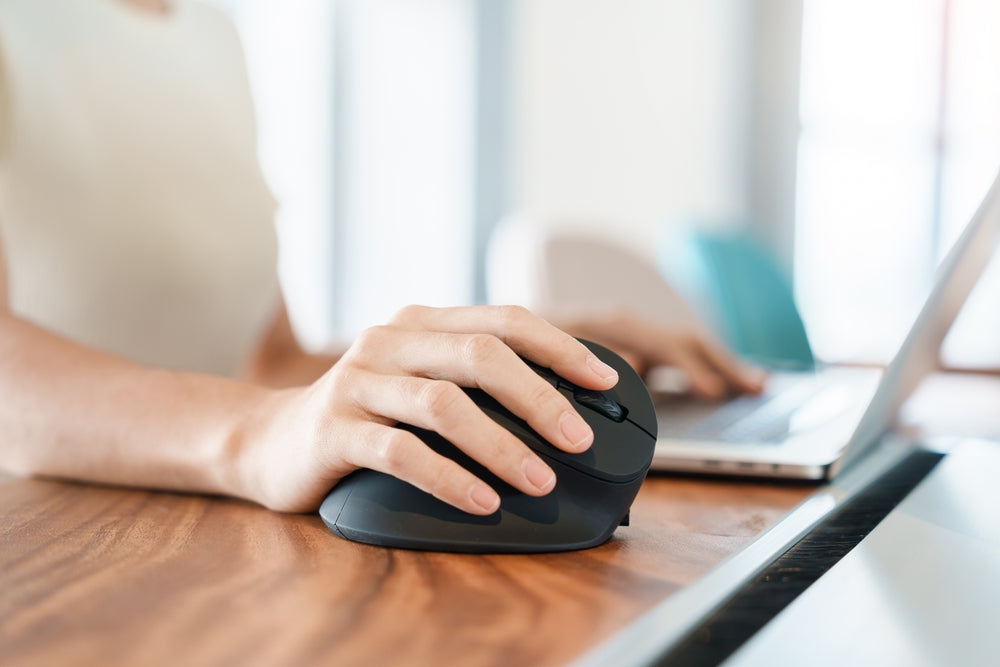 Best Vertical Mouse of 2023
Check out our recommended vertical mice for ergonomic and injury-safe hand posture. Say goodbye to wrist pain with these innovative products.
Similar to your keyboard, your mouse is a computer peripheral you constantly use. It's difficult to move cursors, select tabs, or click links without a mouse; shortcuts and cursor control keys can only do so much.

There's a caveat though. The mouse is also one of the culprits of cases involving wrist pain, carpal tunnel syndrome, and repetitive stress injuries. That's because the natural position of the human hand is not taken into consideration in the design of a standard horizontal mouse.

Fortunately, vertical mice alleviate this problem. These innovative products are designed so that your hand is positioned vertically while using the mouse. This vertical position is the most natural, relaxed, and healthy hand posture---you won't feel strain or pressure at all.

Finding the right vertical mice can be daunting considering the majority of mice are standard horizontal ones. That's why we made this list for you.
Our Recommended Vertical Mice
Check out our picks for the coolest vertical mice for you.
Evoluent VerticalMouse 4 Right Wireless
The Evoluent VerticalMouse 4 Right Wireless is specifically designed for right-hand users. Its patented sleek design not only looks great on your workstation but also helps prevent carpal tunnel syndrome. That's because its ergonomic design places your mouse hand in a natural, neutral, and relaxed upright position. A molded thumb rest and flange prevent your thumb and fingers from scraping on the mouse pad.
The Evoluent VerticalMouse 4 Right Wireless also has 6 programmable buttons. You don't have to change your grip to access these buttons. A LED light indicates the current pointer speed.

You can install the mouse using a driver that is compatible with Windows, Mac, and Linux.
Evoluent VerticalMouse 4 Left
As a counterpart to the product mentioned above, the Evoluent VerticalMouse 4 Left is oriented for left-hand users. The patented design helps supports your hand in an upright position, which is the most natural and least stressful for your hand, wrist, and forearm. You'll enjoy long periods of mousing without hand stress and wrist pain.
Similar to its right-handed counterpart, the Evoluent VerticalMouse 4 Left has 6 programmable buttons, an LED speed indicator, a thumb rest, and an extended flange.

The vertical mouse is made of 30% recycled plastic, which makes it an eco-friendly product.
Kinesis PD7DXT-WR DXT Wireless Ergonomic Mouse 2
The Kinesis PD7DXT-WR DXT Wireless Ergonomic Mouse 2 is perfect for people on the go. On a full charge, this wireless ergonomic optical mouse continues to operate for 2 weeks. A rapid charge of 30 seconds allows you to use it for 2 hours. The mouse is compact, sleek, and compatible with Windows, Linux, and Mac operating systems.
Goldtouch Semi-Vertical Mouse
The Goldtouch Semi-Vertical Mouse is for users who want the benefits of ergonomics but still want the familiar feeling of using their standard horizontal mice. The mouse features a slope of 66 degrees which puts your hand and wrist at a comfortable slant. The cool thing about working on this angle is that, unlike in a true vertical mouse, you won't have to exert a lot of movement between your thumb and fingers when clicking.
The Goldtouch Semi-Vertical Mouse has a detachable flange accessory for users with large hands. The flange also prevents your hand from touching the desk or mouse pad as you move the mouse. The anti-slip and rubberized coating allows you to securely grip the mouse while providing optimal comfort. There are also detachable 5-gram block weights to tailor fit the mouse weight.

There are also page-forward and page-back buttons which you can conveniently reach with your thumbs. No complicated driver is required to operate the mouse.
Conclusion
A vertical mouse is a great accessory to promote proper and injury-safe hand posture. Any of the products mentioned above will make you "good riddance" to your old mouse so you can begin a healthy and relaxed work day.
---