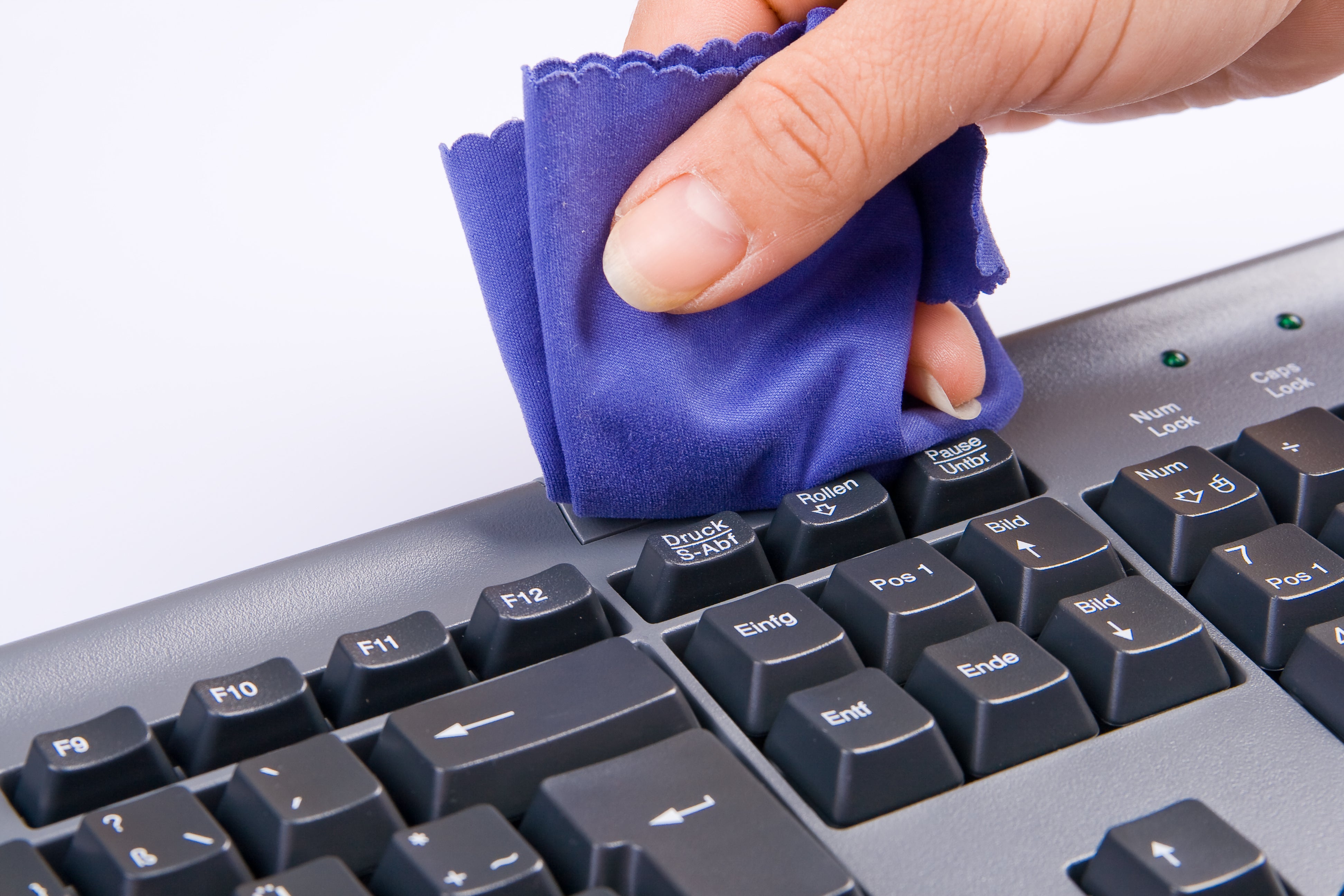 How to Clean a Keyboard: Do's and Don'ts
A clean keyboard makes you more efficient at work or play. Do you know how to clean a keyboard properly and thoroughly? Here are some tips.

Your computer keyboard is your main interface to your computer. This is how you type words, compute numeric formulas, or play games. You can even control various aspects of your system via your keyboard. For example, you can dim or brighten the screen or control the volume of the music you're listening to.

Keyboards, especially mechanical ones, are usually sturdy and are built to withstand the frequent pounding. Nevertheless, they need some tender loving care to make sure they're always working like brand new.

Tips for Cleaning a Keyboard
Do

An ounce of prevention is always better than a pound of cure. That means you should protect your keyboard from getting dirty in the first place. It's also a good idea to cover your keyboard when not in use.
Don't
Don't eat over your keyboard, as crumbs can fall beneath the keys. Drinks should be placed far away to prevent any spillage.
Do
If crumbs and debris do get in your keyboard, turn the keyboard over and tap it lightly until the crumbs come out.
Don't
Never shake the keyboard vigorously, or you might damage the hardware inside.


Do
Regularly brush the dust and debris off your keyboard. Pay attention to the spaces between the keys.

Mechanical keyboards such as the Kinesis Freestyle Edge have removable keycaps. Remove the caps to clean areas that a brush can't reach. This is one of the reasons why you should opt for a mechanical keyboard; with the removable keys, you can tidy up your keyboard easily and quickly.
Do
For keyboards with uneven or tight spaces between the keys, such as the Kinesis Advantage 2, you can blast compressed air to blow off the dust and debris. Purchase canned air or dust removal spray from any hardware store. You can get deeper using the micro-straw attachment, which is usually included when you buy these cans.
Do
There are USB-powered novelty vacuum cleaners out there. You can use them to suck out the dust and dirt between the keys of your beautiful Kinesis Advantage 360---or any other keyboard. This is a good option if your keyboard's keycaps tend to pop out. The gentle suction isn't powerful enough to pry out your keys but can pick up unwanted debris.
Don't
Don't use your household vacuum. It's way too powerful and can damage your keyboard.

Do
Turn off your computer and keyboard. Gently wipe the keys with a screen wipe to cut through and remove grease and oils. Baby wipes that are soaked with rubbing alcohol also help.

Don't
Don't clean your keyboard while your computer is on. Don't use hard pressure when cleaning the keys. A gentle wipe is usually enough.

Do
Keyboards like the Goldtouch V2 often have USB ports to interface with your computer and other devices.

USB ports are sensitive components, so you need extra care in cleaning these. Here are some tips:
Turn off your keyboard or device

-Use a photographer's camel brush to clean the port. A camel brush is a soft brush used to clean camera lenses. It's attached to a squeeze blower, so you can blow off dust while brushing the inside of the port.

Alternatively, you can use a cotton swab to clean the port. Make sure you use gentle pressure.

You can also use compressed air to blow off the debris. In this way, you don't have anything touching the port.
Don't
Don't blow on the port; the moisture from your mouth can cause damage.

Don't use a toothpick, toothbrush, or pin to clean the ports. Don't use corrosives or cleaning fluids.
Conclusion
Knowing how to clean a keyboard properly is the key to the longevity and optimal performance of your keyboard. These tips should help you have a spic-and-span keyboard.
---