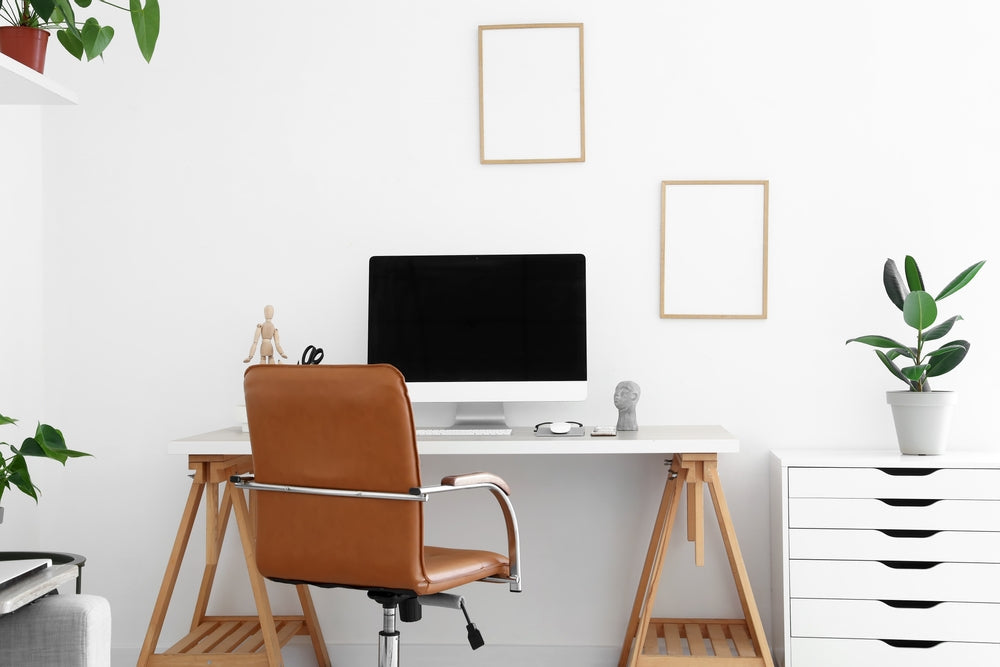 How to Achieve A Minimalist Office
Transform your home office into a minimalist haven. Invest in space-saving equipment and keep things simple for a stress-free, productive workspace.
Home is where the heart is. But when you're working at home, this can go overboard. We're tempted to put a lot of stuff in our home office---empty boxes, decorations, mementos, and more. Sooner or later, you'll have a cluttered area that is more conducive to workplace stress, mental clutter, and being a dumpster than a workplace.
Remember that your home office is a place to work; there has to be a distinction from the rest of the rooms in your home. Thus, it's best to keep your office simple and uncluttered so you can work optimally.

Here are some tips for making your home office simple yet an ideal place to work.
Tips for Having a Minimalist Office
Do you want to have a simple, clean home office that is conducive to efficiency? Here are some minimalist home office ideas, which can also be applied to corporate offices.
Clean your office.
Everything starts with cleanliness. Do a general cleaning of your office. Start by cleaning your keyboard, empty the waste bins, vacuum the carpet, and get rid of the trash. You will be surprised how a simple general cleaning session can make your office look clean and uncluttered.
Get rid of things you don't need.
Take stock of your office and create a list of things that you don't need. These include non-functional office equipment, empty boxes, old decorations, and broken furniture. It's time you get rid of them; you're better off investing in new stuff than having to keep them around.
For surplus items and office supplies that you don't need right away, allocate space for office storage. It could be as small as a closet or as large as an entire room.
Don't include things that you don't need.
Now that your home office is clean, it's tempting to put back things such as paintings, toys, mementos, dividers, and video game consoles. While these will give your workplace a unique character, they are unnecessary and will just add to the clutter.

If you want to put non-work related items, minimize the number of such items. A single potted plant, a single painting, or a recliner, for example, will suffice.
Invest in space-saving equipment.
A lot of office equipment takes up space. Fortunately, there are innovative office peripherals that can help declutter your desk space.

For example, the fully adjustable Goldtouch Dynafly Adjustable Monitor Arm can mount your computer monitor over your desk. It has integrated cable management to keep your cables organized. It has a small footprint in the form of a clamp. Altogether, these features free up a lot of desk space.
Another example is the Kanto Ergonomic Universal Riser Laptop Stand. It allows you to elevate and cantilever your laptop off the desk, freeing up desk space.
Invest in multi-purpose equipment.
To save money and space and minimize clutter, use multi-functional office tools. There's no need to buy one tool for each function. For example, if you prefer working standing up, get a SpaceCo Scissor Lift Keyboard Platform on your work desk. This allows you to easily raise your keyboard so you can work in a standing position. You don't have to spend extra for an expensive sit-stand table.
Keep stuff out of the way.
If you're not using a piece of office equipment, stow it so it won't get in your way. A lot of peripherals can do this function. The Workrite Banana Board Keyboard Tray, for example, allows you to stow your keyboard and mouse under your desk when not in use. It's also adjustable, allowing you to type in a healthy and relaxed posture.
Keep things simple.
To have a stress-free, stylist workspace, adopt elements with bold but simple aesthetics. For example, choose a simple, functional desk instead of over-the-top designs with multitudes of drawers. Paint your walls with a single solid color rather than splattering them with flashy, garish colors. Furniture pieces with simple, contemporary designs are your best friends.
Conclusion
A minimalist office improves productivity, reduces workplace stress, and prevents clutter. These tips should help you enhance your office---and your work---using simplicity as your ally.
---