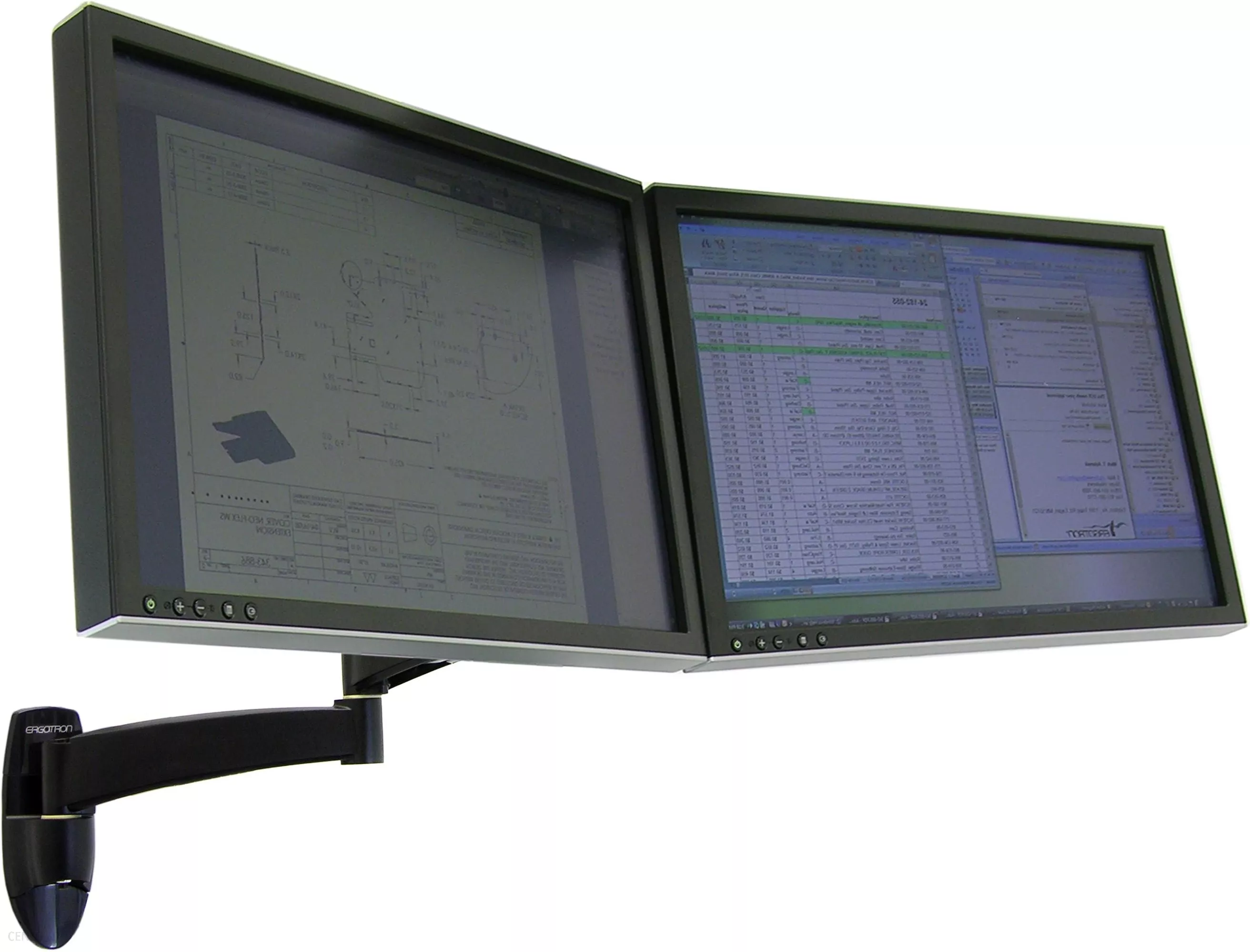 Best Monitor Wall Mount Arms of 2023
Maximize your desk space with a monitor wall mount! Improve efficiency and reduce clutter with single, double, or triple wall mounts. Check out our top picks.
Monitors are standard equipment for desktop setups. They come in all sizes and brands, and many more expensive ones have many extra features.
However, a monitor takes up space on a desk. The bigger the monitor, the more area it takes. Other computer peripherals like your keyboard and mouse take up more space. How about stuff you need to use, such as notepads and pen holders? The consortium of computer peripherals and office tools becomes problematic if you have space limitations.

An ingenious solution is to get your monitor out of your desk and onto the wall, which is often unused space. You can enjoy a more spacious desk space by placing your monitor on the wall. You can quickly do this solution by installing a monitor wall mount.

Check out some excellent wall mounts for your workspace, game space, or entertainment area.
The Best Monitor Wall Mount Arms
Position your monitor at an optimal level while reclaiming your entire desk space. Here are some of our recommended wall monitor arms.
Hat Design Works 9110 Monitor/TV Wall Mount
The Hat Design Works 9110 Monitor/TV Wall Mount is ideal for people who want to save space. Installation for this compact VESA-adaptable wall mount monitor is easy. Once installed, you can mount your flat-screen TV or monitor. The wall mount is light, sturdy, and blends seamlessly into any workspace or home entertainment setup.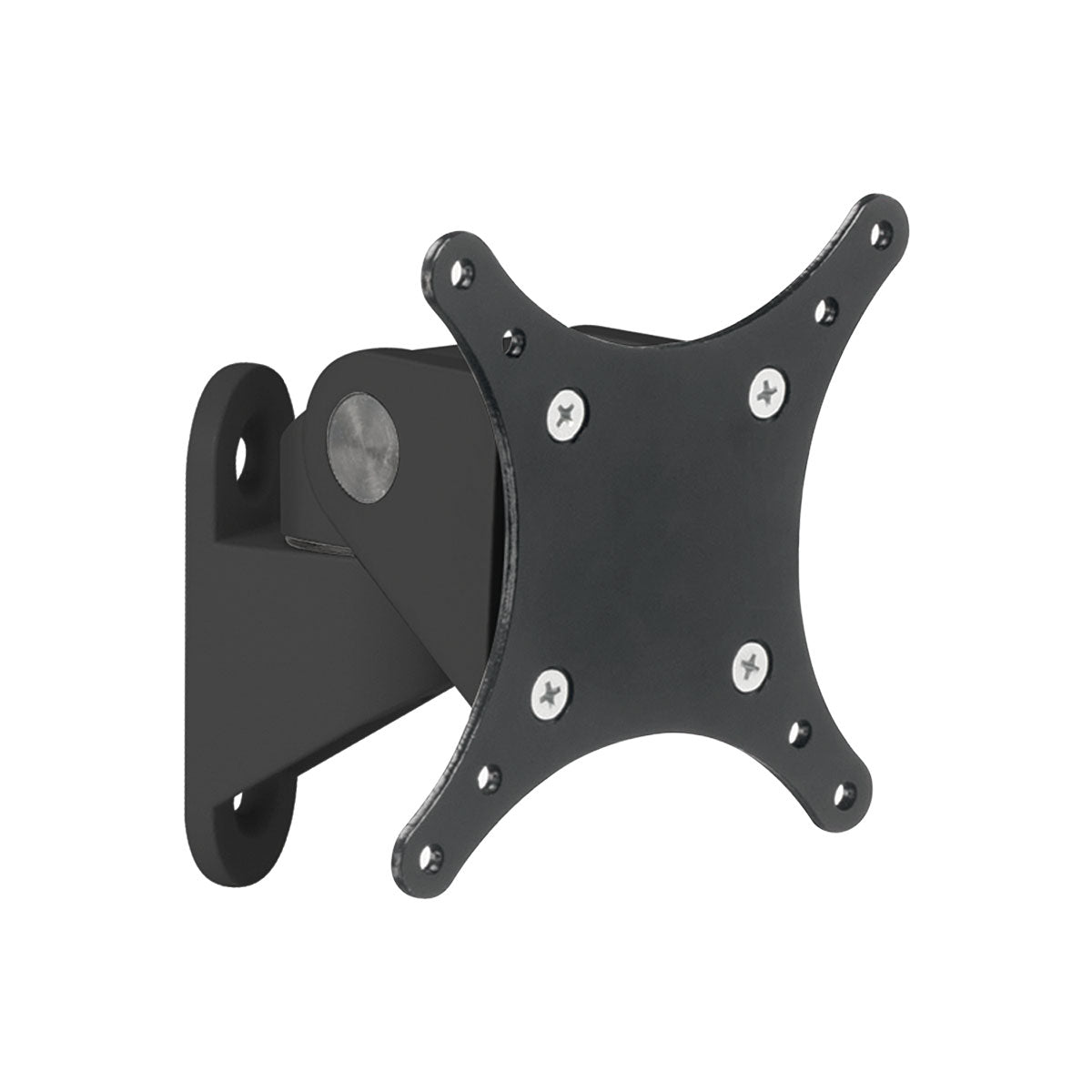 Cleverly engineered mechanisms in the wall mount allow proper monitor height position and optimal viewing angle. The adjustable tension controls at the joints will enable you to fine-tune your touch-screen applications.
Ergotron 200 Series Dual Monitor Arm Wall Mount
The Ergotron 200 Series Dual Monitor Arm Wall Mount features interlocking, telescopic, easily adjustable arms that can extend or retract your monitors. The dual monitor mount extends 23 inches and retracts to 5.7 inches from the wall. It also has a touch-screen stability feature, preventing the monitor from shaking when you activate its touch-screen feature.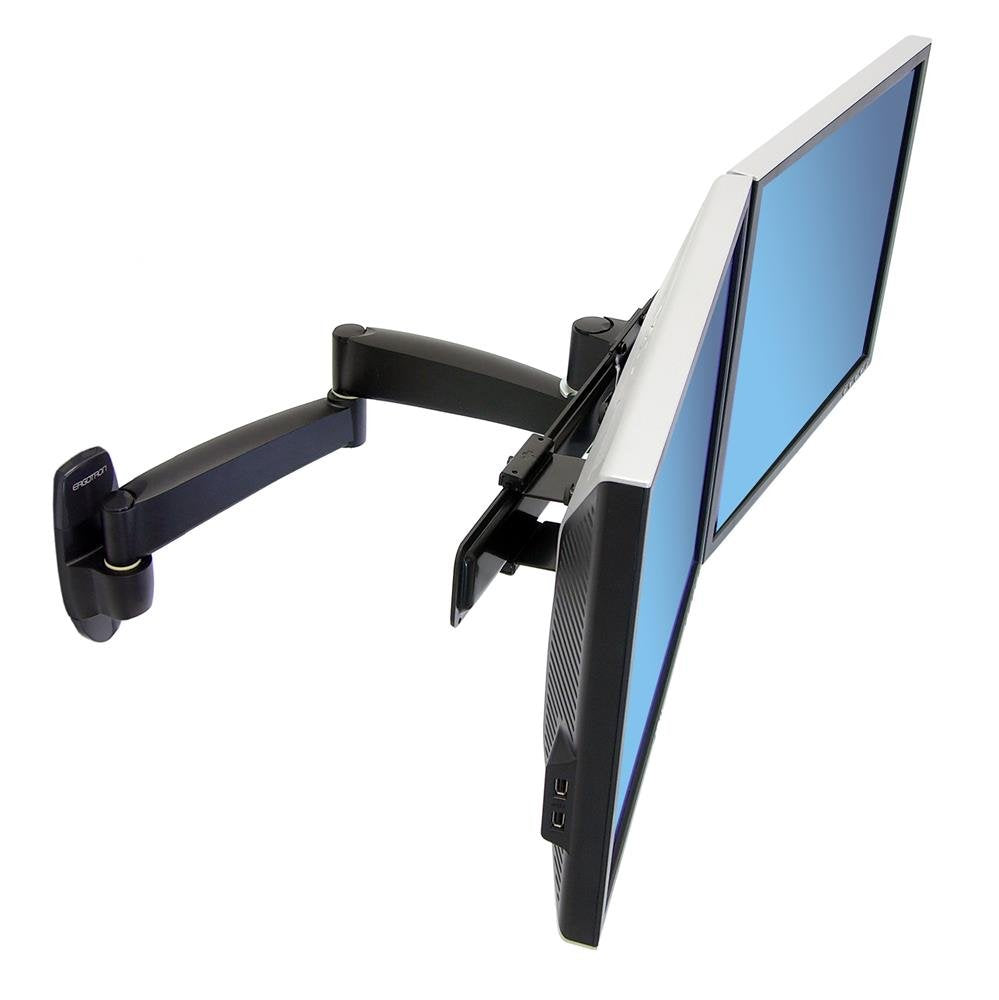 The rugged steel construction allows you to mount two flat-screen LCDs. The mounts are fully adjustable and will enable you to rotate the screens in either landscape or portrait mode. A cable management system conceals messy cables and protects them from damage.
Ergotron MXV Wall Monitor Arm
The lightweight and sturdy Ergotron MXV Wall Monitor Arm is a stylish and functional wall-mount monitor that helps save space in your workstation, game room, or entertainment den. The articulating arm lets you easily adjust your monitor for eye strain prevention and optimal viewing. It provides 33 inches of height adjustment.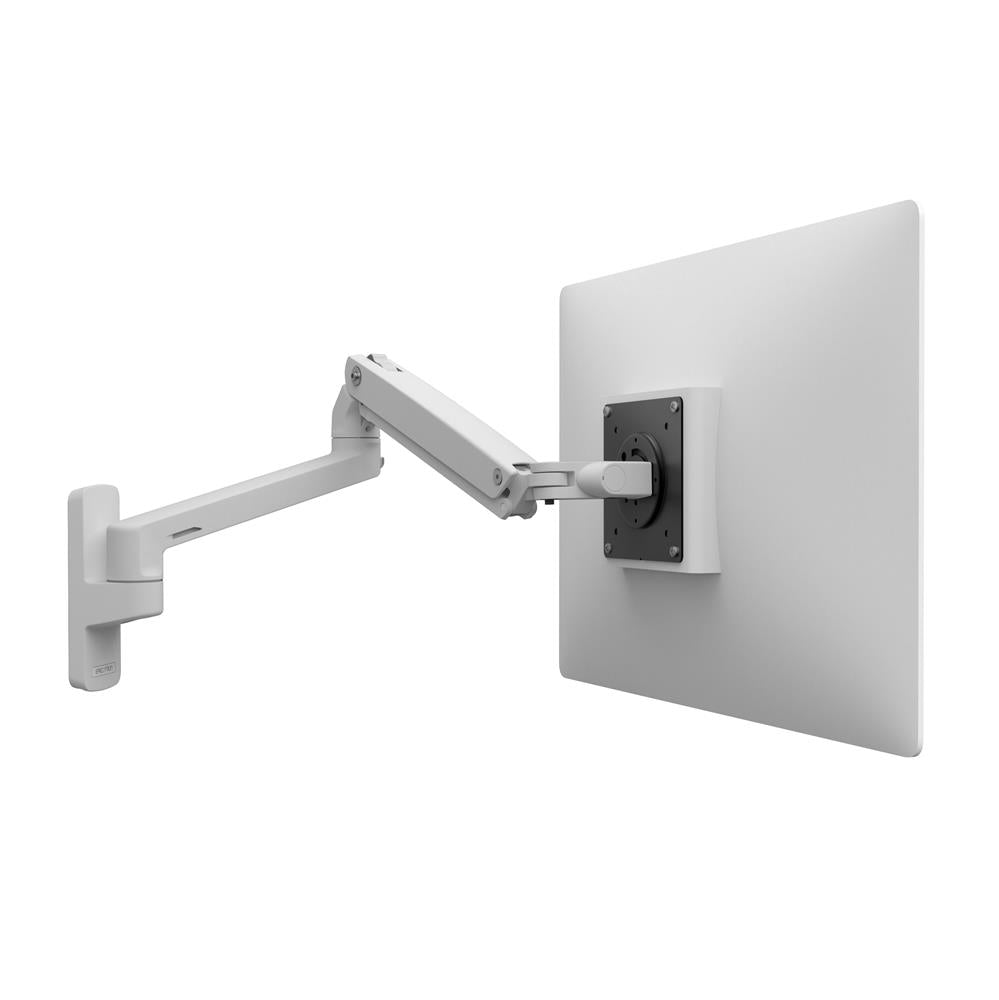 The Ergotron MXV Wall Monitor Arm comes fully assembled for easy installation. It has a rotation-stop base that prevents the arm and the monitor from hitting the wall. It can fold within 4.4 inches from the wall.

Ergotron 200 Series Combo Arm
Get the Ergotron 200 Series Combo Arm for the ultimate workplace wall mount. It can mount a 24-inch monitor weighing 6 to 18 pounds. Patented Constant Force technology allows you to adjust the keyboard with one finger.
The unique thing about this product is it comes with an integrated keyboard tray. The 3-point telescoping easily adjustable arms give you greater reach at 39 inches, bringing the monitor, keyboard, and mouse exactly where you want them. While the keyboard tray height is fixed, the monitor height can be adjusted vertically up to 5 inches. The keyboard tray features ergonomic adjustments, including a negative tilt. 

Other features include a cable management system, barcode scanner holder, and rugged steel construction.
Conclusion
Single, double, or triple monitor mounts that can be installed on walls are worthy investments if you want to reclaim your space, reduce clutter, and make your tasks more efficient and enjoyable. This list should help you pick out the best ones for your needs.
---