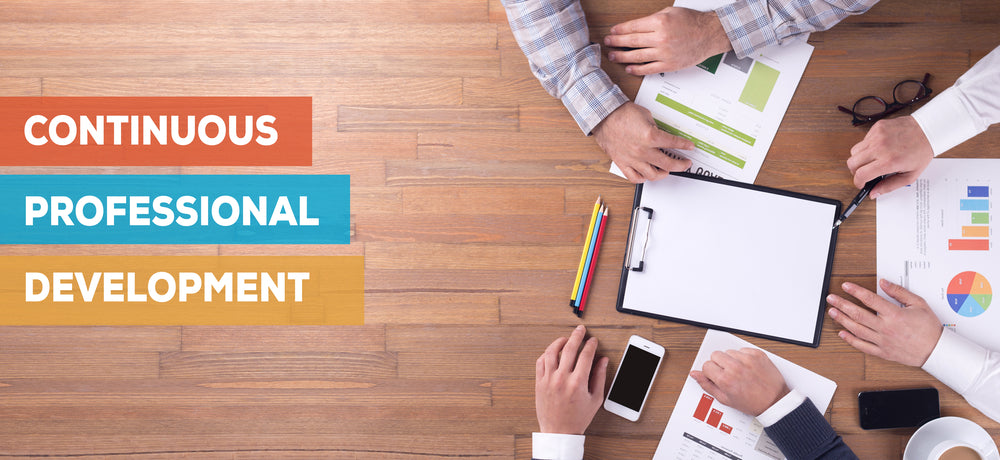 Aim for Professional Development
Discover the importance of professional development. Learn new skills, be a leader, and embrace ergonomics for a successful career and personal growth.
Society changes rapidly, and this includes work. A lot of technologies and skills have become obsolete. As times change, many business principles, theories, operations, and methodologies are modified, updated, or even discarded. New, more effective trends replace the old.

People who want to be successful in today's challenging times should step out of their comfort zone. There's no place for people who are slow or those who are unwilling to improve their personal and employee skills. These people will soon lose their value, easily replaced by those who are eager to step up to the challenge.

To remain competitive, you should embrace the road of professional development. This is a continuing process that allows you to increase your value.
What is Professional Development
Professional development refers to constant and continuous learning and career training after you enter the workforce. The importance of professional development cannot be understated. It helps you learn new skills to remain competitive, enhances your value as a professional and as a person, helps you stay up to date on current trends, and helps you advance your career.

Professional development has a variety of approaches, such as continuous training, consultation, mentoring, technical assistance, reflective supervision, workshops, and more.
Embracing Professional Development
Here are some tips on how to develop yourself so you can advance your career as well as your personal life.
Be efficient.

Efficiency in your work is an important key to professional development. If you manage your time, effort, and resources smartly, you can do and finish your tasks in a timely, efficient, and hassle-free manner while minimizing errors.

Advanced technologies and new products can make you more efficient. For example, the Winston Workstation Desk Converter allows you to work even when you're standing. With a simple motion, it can raise or lower your entire workstation---keyboard, mouse, and monitor---so you can shift from a sitting to a standing position without pausing your work.  The product can mount multiple monitors, has a small footprint to free up desk space, and has a cable management system to keep your workspace neat and organized.
Take advantage of ergonomics.
Ergonomic products help prevent work stress and improve productivity. They are designed and engineered with human physiology, motion, dynamics, and psychology in mind. In other words, these products "flow" with the human body, not the other way around.

Take for example, the Workrite Banana board Keyboard Tray. The tray encourages proper typing posture so you can type in a natural, relaxed, and healthy position. That means you'll be able to type faster and longer. The tray is also fully adjustable so you can position it in whatever way you like.
Learn new skills.
The world is changing, and those who choose to remain stagnant will be left behind. Those who won't adapt to changing times find their values diminished, out of jobs, or unwanted in the corporate world.

In this fast-paced modern society, it's important to learn new skills. For example, you can enroll in a course offered by schools and colleges. Acquire brand-new knowledge and skills in specialized schools and training centers.

Or you can learn on your own. The Internet, for example, has unlimited sources of new knowledge such as paid courses and online training sessions. Get your headphone from your Kanto Universal Headphone Stand and listen to podcasts about new skills.
Be a leader.
If you become a candidate for promotion, grab that chance. This is your chance to perform and enhance your leadership skills. It's your chance to make a great difference in the organization. Guide a team of people, inspire them, and let them harness their unique employee skills. A team with a great leader at the helm improves retention rates and helps the organization achieve---or even exceed---its goals.

If you notice, most successful people are leaders, thinking and implementing innovative ways to make businesses succeed and make the world a better place to live in.
Don't give up.
Full of challenges, obstacles, and uncertainty, the path to professional development is not an easy one. At one or several points in your journey, you will encounter failures. These failures can discourage you from pursuing your goal.

Understand that failure is part of your road to professional development. It is through failure that you learn how to cope with challenges. Rather than quit, learn from the situation. Analyze what made you fail. Develop strategies. Learn from mistakes.

Most successful people embrace failure as a natural and necessary part of success.

Conclusion
Learning new skills, researching new trends, being a leader, and improving yourself as a person---all these encompass professional development. Through professional development, you project yourself as a high-value person who has a great contribution to business and society.
---