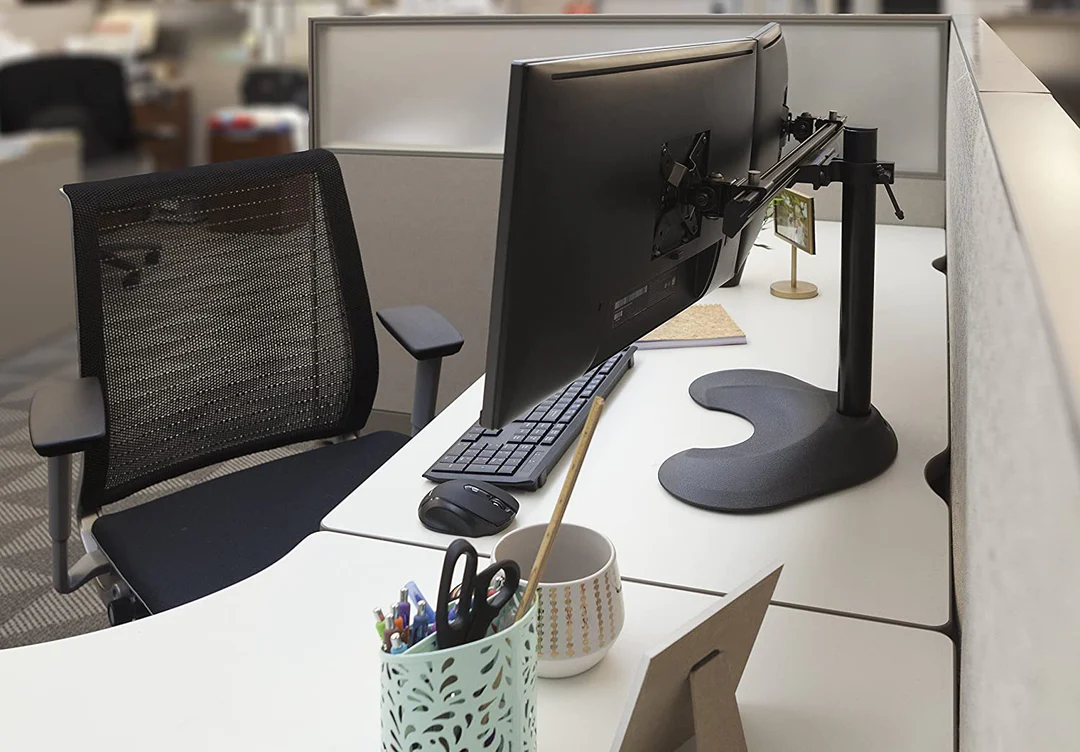 Looking for the best monitor mount for your workspace or gaming setup? Check out our recommended monitor arms for desks to improve productivity and wellness.
Whether you're an employee, a freelancer, a graphic designer, a gamer, or someone who spends a lot of time in front of a computer, you need to have a good monitor setup. A properly adjusted monitor improves workplace wellness, reduces eye strain, lessens exhaustion, lengthens screen time, and increases productivity.

The most recommended way to improve your monitor setup is to use a monitor desk mount. It provides a more ergonomic working, playing, and viewing experience. Since it positions your monitor off your desk, it is also a space saving equipment, allowing you to reclaim your workstation real estate.

There are many options in the market, and it could be a challenge to pick which one fits you. Here are some of the best monitor arms and mounts for you to check out.
Our Recommended Monitor Arms for Desks
Here are some of our best recommendations for the best monitor mounts for your workspace, game command center, or entertainment den.
Kanto Desktop Mount
The Kanto Desktop Mount is perfect for any office setup, particularly those with limited spaces. Simply clamp it on the edge of your desk or grommet hole, and you're good to go. The base can be detached, so you can install the mount anywhere you like. An integrated cable management system helps keep cables and wires organized for a clean, organized office setup.
The Kanto Desktop Mount's gas shock technology allows smooth, easy, and seamless adjustments. You can raise, lower, tilt, swivel, and rotate your monitors with the tip of your finger. It can mount a 17-inch to 32-inch monitor easily. Finally, the Kanto features a minimalist-industrial design that's aesthetically pleasing in any office.
Kanto Dual Monitor Desktop Mount
If you're using two monitors for your work, then place them on a Kanto Dual Monitor Desktop Mount. Similar to the single-mount model, this unit is ideal for a minimalist office setup due to its small footprint. There's no need to modify or drill holes in your desk; simply clamp it on the edge. Cable management clips are also included to conveniently organize and route your cables.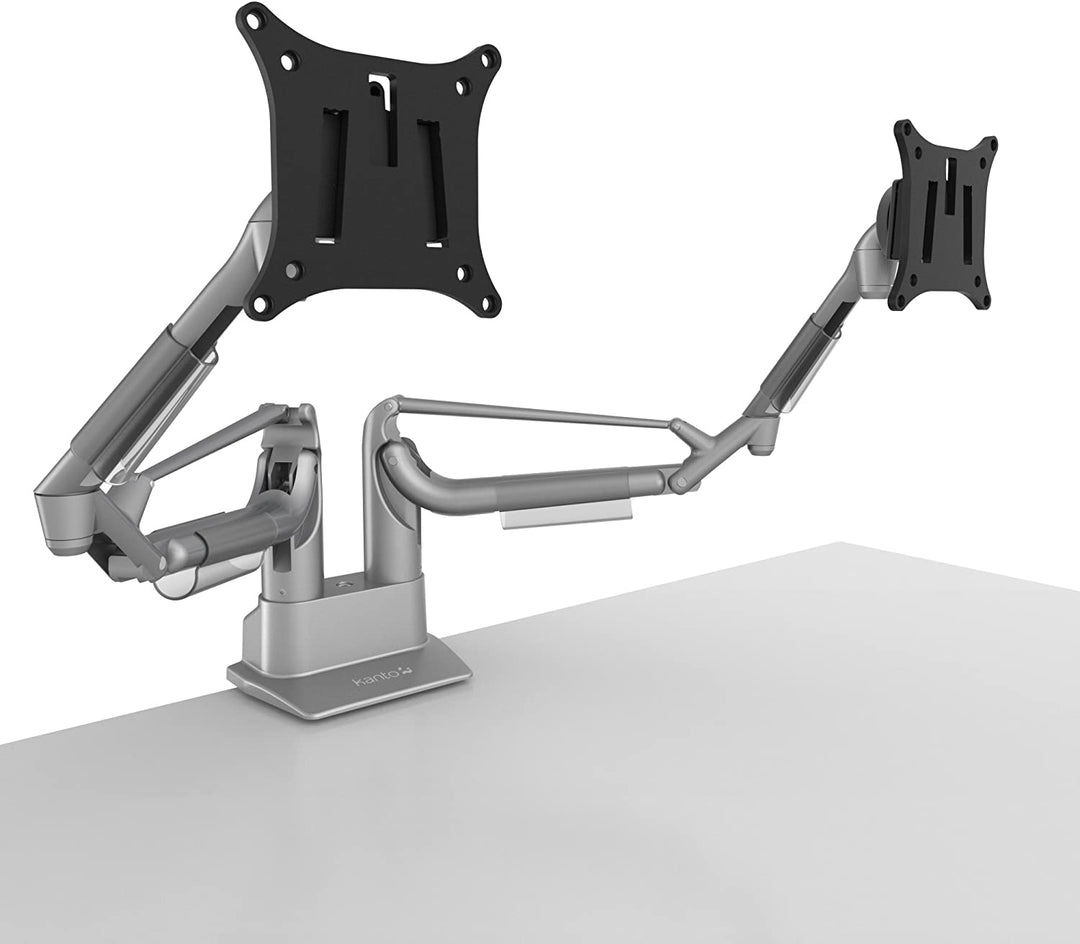 The Kanto Dual Monitor Desktop Mount features gas shock technology for smooth adjustments. You can easily and independently adjust your screens for proper monitor height, angle, tilt, and distance. Both arms can mount 17-inch to 32-inch monitors without tipping over.

With its minimalist design with industrial influences, the Kanto Dual Monitor feels right at home in any workplace, game space, or entertainment center.
Ergotron LX Desk Mount Single Monitor Arm
One of the best desk solutions is the Ergotron LX Desk Mount Single Monitor Arm. Its desk clamp attaches to table ledges .4 to 2.4 inches thick. The included grommet allows the monitor arm to be mounted through surface holes .31 to 2 inches wide and up to 3 inches thick. There's no need for complicated modifications to install the mount.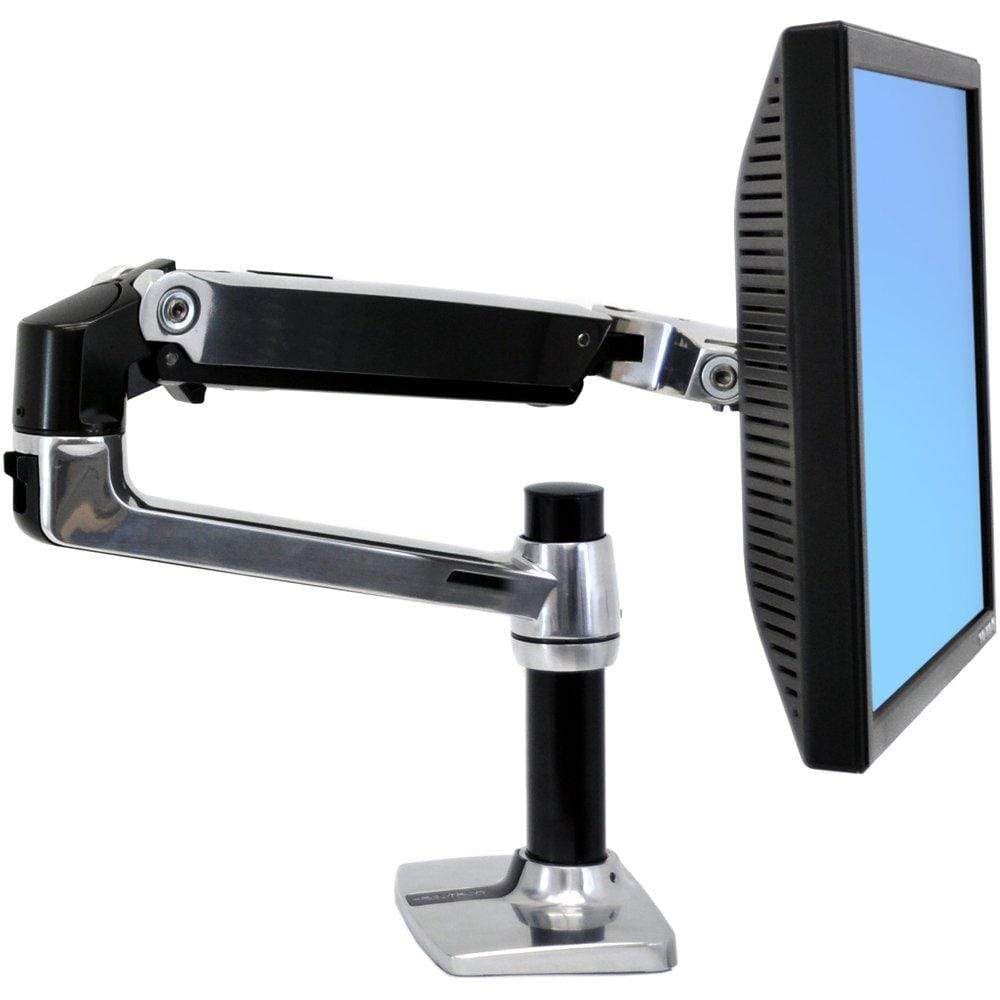 The Ergotron LX Desk Mount Single Monitor Arm can carry a 7 to 25-pound monitor. With its patented Constant Force technology, you can adjust the angle, distance, height, tilt, and position of the monitor with a light touch. The technology also prevents the monitor from bouncing or wobbling as you do your tasks.

Finally, you can choose from white, silver, or black finishes. Customize them with optional inserts to create a unique look for your workspace or game space.
Ergotech Dual Monitor Horizontal Desk Stand
The Ergotech Dual Monitor Horizontal Desk Stand is one of the simplest yet most effective mounting options for monitors. Although the base has a larger footprint than the other products mentioned above, it's still a space-saving solution, being compact enough so that it wouldn't take up a lot of desk space. Quick Release Pivots allow easy and fast installation, setup, adjustment, and relocation.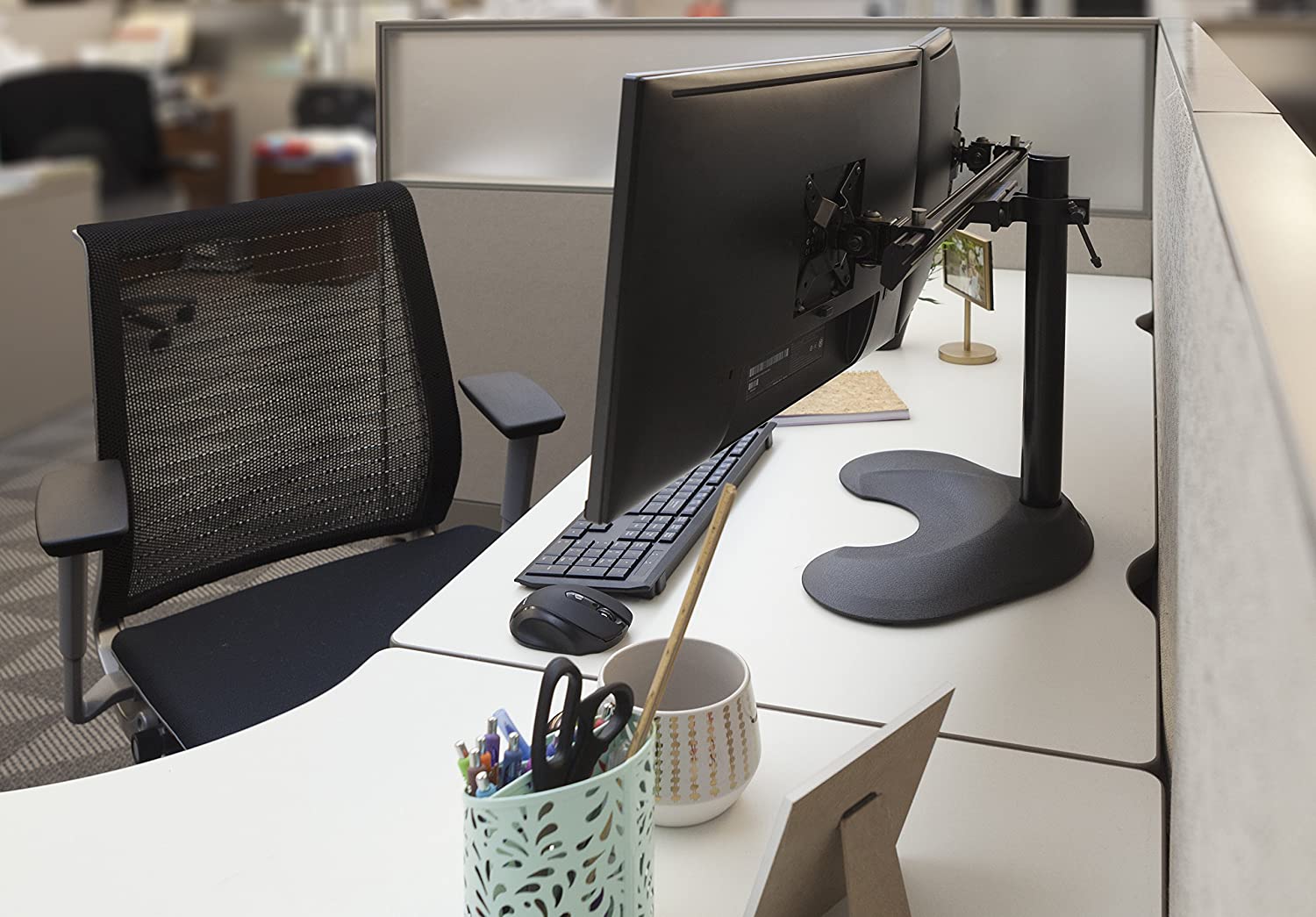 The strong ion-bonded steel and aluminum frame allows you to mount two 24-inch monitors weighing 25 pounds each. Best of all, the Ergotech Dual Monitor Horizontal Desk Stand is meant to be expandable. Thus with optional monitor arms for desks, you can mount up to 6 monitors.
Ergotech Dual Monitor Clamp Mount
Even with multiple monitors, you can still achieve a neat, modern, and minimalist office with the Ergotech Dual Monitor Clamp Mount. Thanks to its strong clamp and grommet attachment, this monitor mount is extremely versatile, allowing you to attach the product to any desk or table.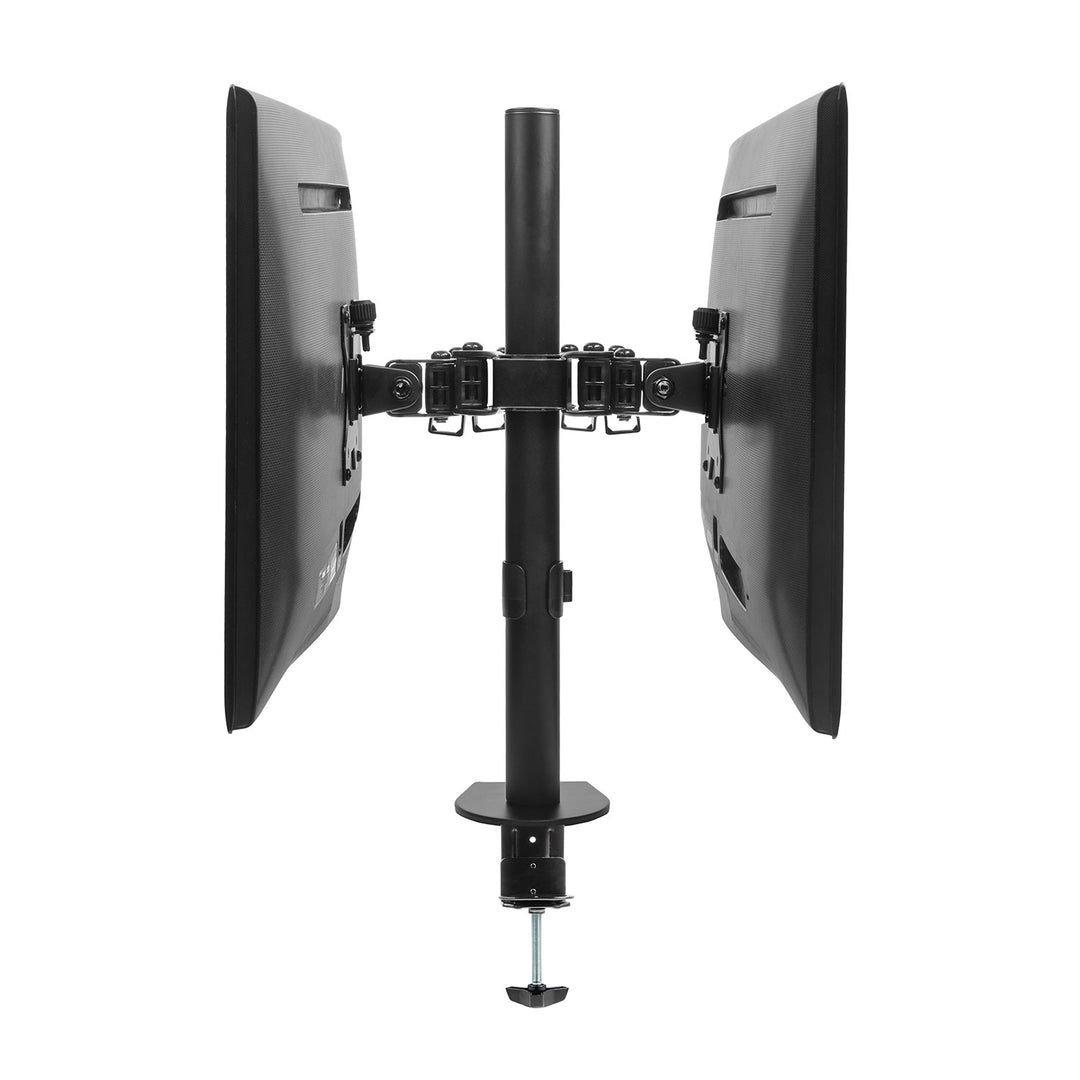 The fully articulating mount has a 17-inch pole and can extend 15.7 inches from that pole. With such an encompassing reach, you can position your monitor wherever you want to. It can rotate 180 degrees, can tilt 45 degrees, and can swivel 90 degrees. The VESA-compatible mount can fit two 17.5 monitors of up to 32 inches.
Conclusion
Having one of the best monitor mounts on the market can create a world of difference in your work, gaming, and entertainment setup. Any of these monitor arms for desks promote workplace wellness, save space, and improve your home or office setup.
---