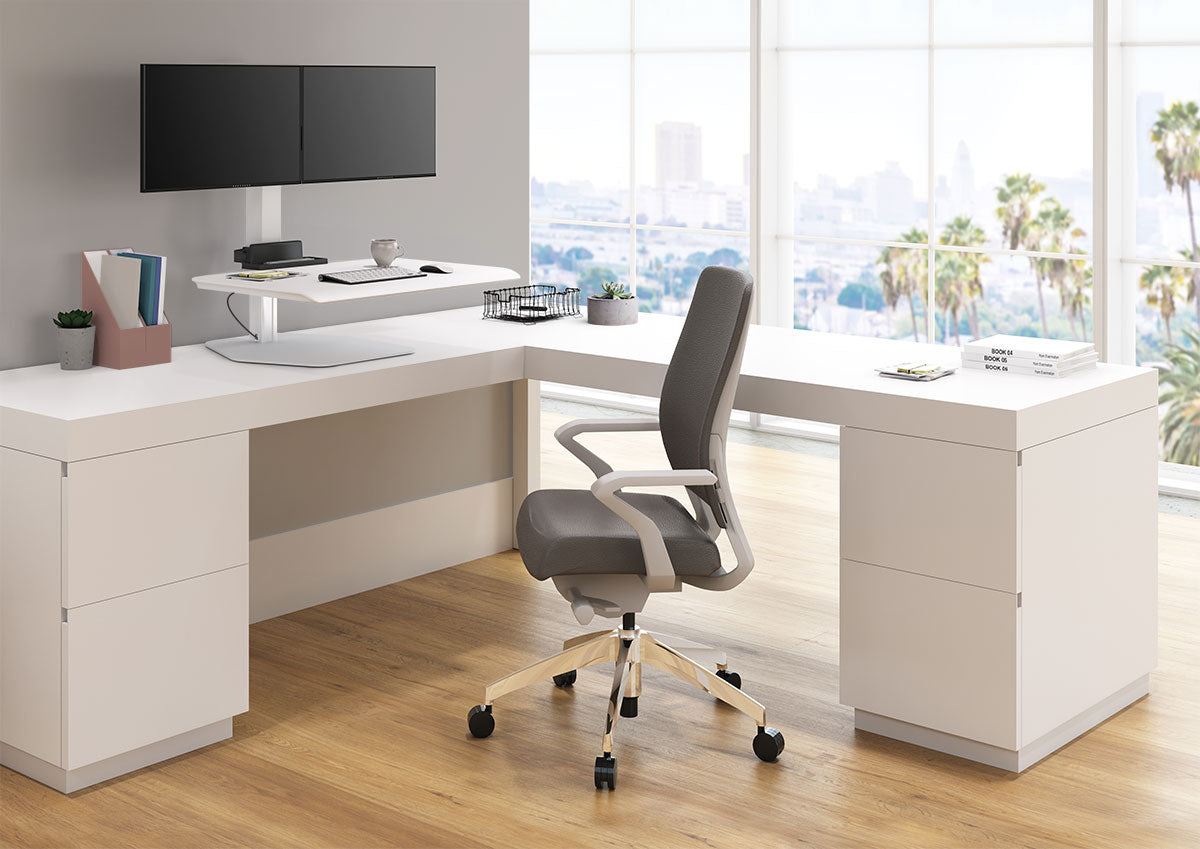 Workstation Space-Saving Ideas
Create a minimalist office setup that maximizes productivity with these space-saving ideas. Say goodbye to clutter and hello to efficiency!
At work, you want to maximize your productivity, efficiency, and output before stress and exhaustion catch up on you. An important factor in achieving this is to have a clean, neat, and uncluttered minimalist office setup. 
In this modern age of innovation and technology, there are lots of space-saving solutions for home or corporate offices. With some smart organization and careful planning, you can optimize your workstation and build a workspace that is clean, efficient, spacious, and comfortable.
Let's check out some of these solutions.
Tips on Saving Space in Your Workstation
Here are some tips on how you can save desk space and increase your office space to improve productivity.
Mount your monitor.
With a computer monitor on your desk, your desk space will be quite limited. It's among the most common office equipment that eats up a lot of space.

Putting your computer screen on a monitor mount such as the Hat Design 7500 Heavy Duty Deluxe Single Monitor Arm solves the problem. The monitor hovers on top of your desk via a series of articulated arms. The arms are fully adjustable, so you can position your monitor any way you please. The 7500 has a cable management system to keep cables organized and out of the way.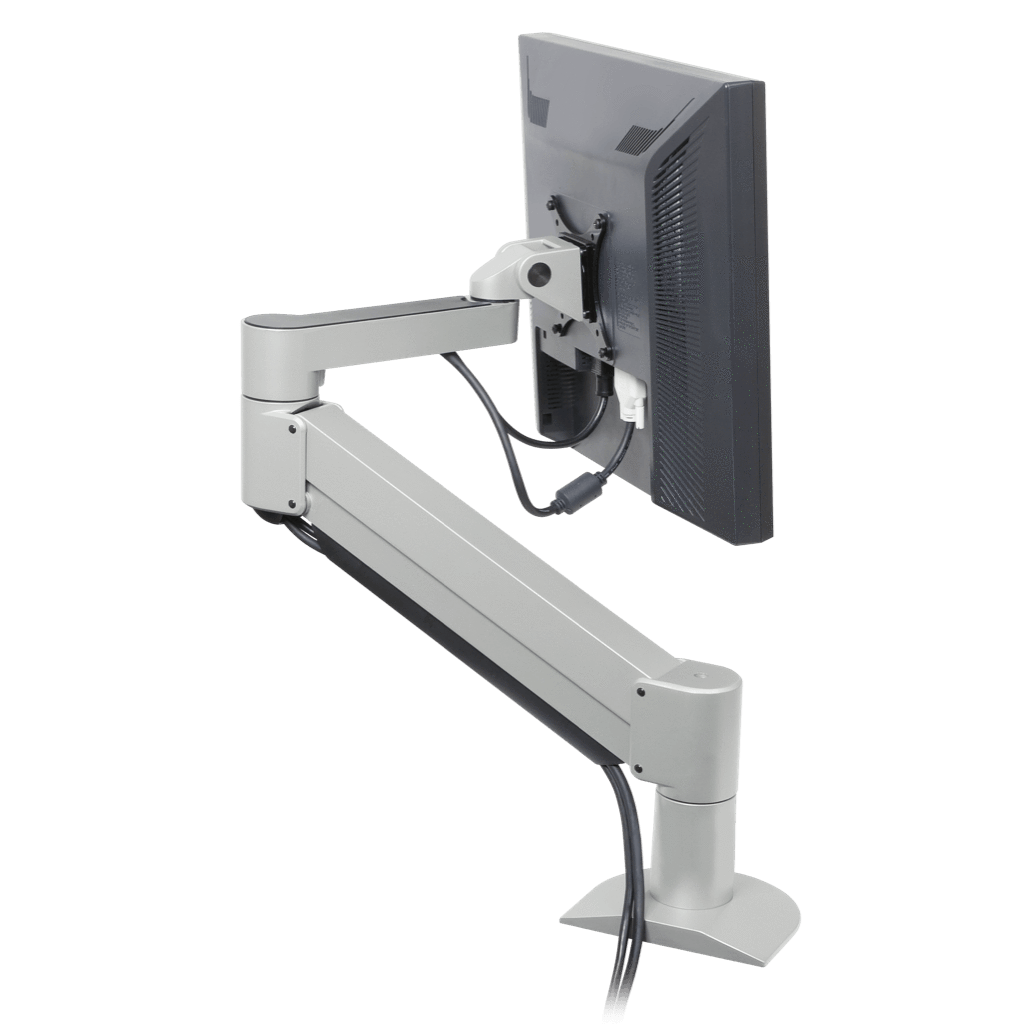 If you're using multiple monitors, consider investing in a triple monitor mount such as the Hat Design Triple Monitor Desk Stand. Only a small amount of desk space is taken up by this mount, equivalent to a single monitor's base. The mount can support three 27-inch wide monitors or two 34-inch wide monitors of up to 25 pounds per monitor. Each monitor can be independently adjusted, allowing you a large degree of freedom.
Invest in a sit-stand workstation.
If your work requires you to stand up (and some people do prefer working standing up), you don't have to invest in a large sit-stand table that takes up office space. Instead, use a Hat Design Works Winston Freestanding Sit-Stand Workstation. Simply place the workstation on your existing desk. Its 30 X 24-inch base provides sufficient workspace still being compact enough to fit into tight spaces. It can support up to 720 pounds of weight.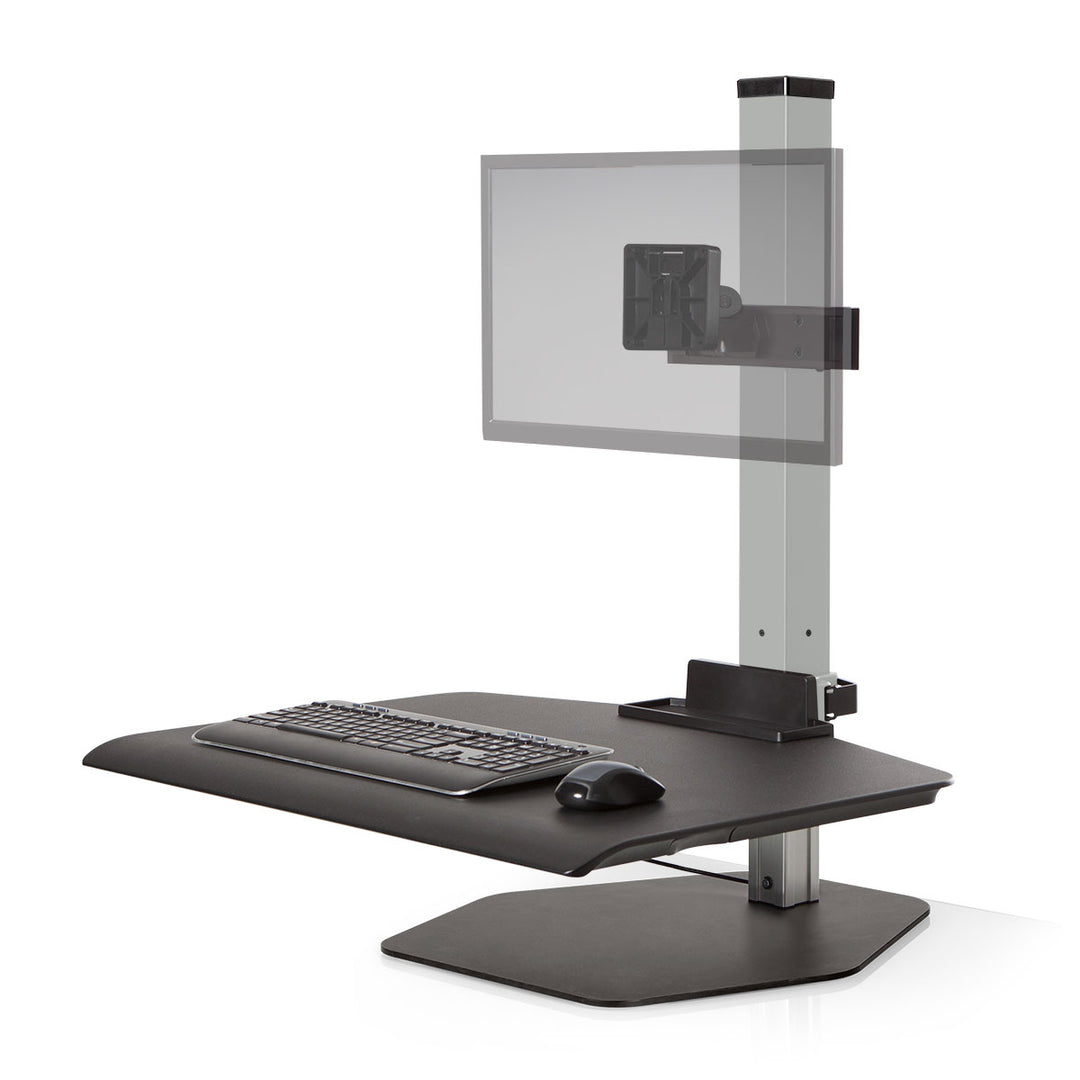 The Winston Freestanding Sit-Stand workstation can raise your entire setup---monitor, keyboard, and mouse---easily so you can work in a standing position.

If you want an affordable option, try the SpaceCo Scissor Lift platform. One of the most cleverly designed office accessories, this product raises your keyboard and mouse so you can work from a sitting to a standing position. There's no need for complex assemblies or tools; simply put the product on the table, and you're good to go.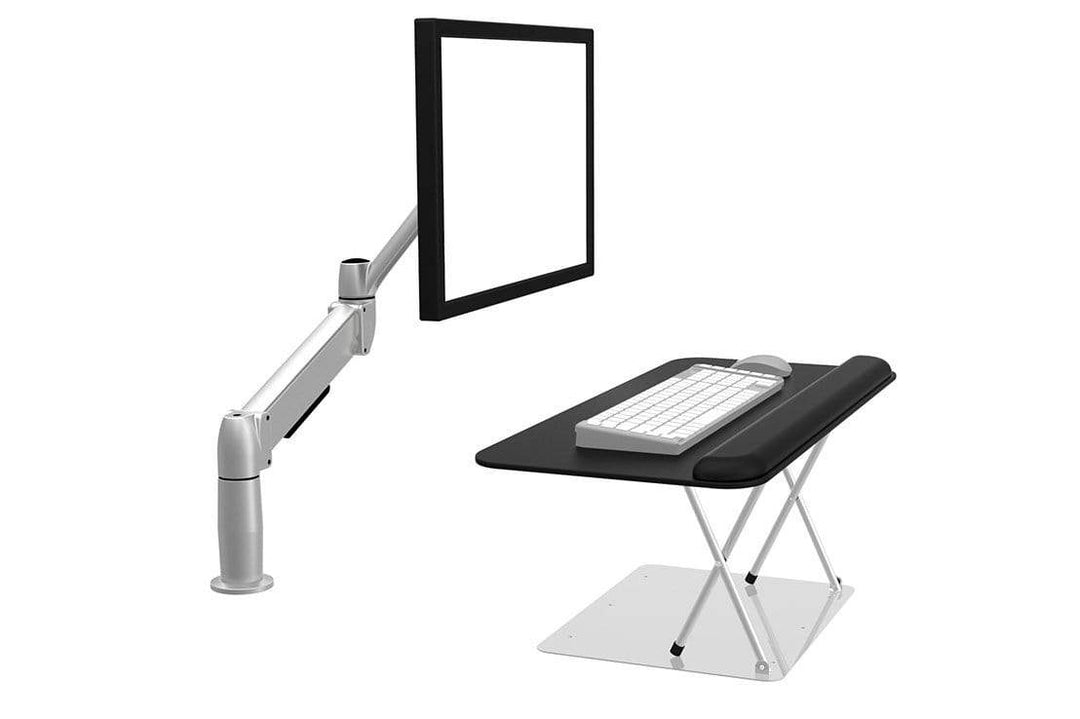 It's also designed with workplace ergonomics in mind. A thick cushion allows you to rest your palms while you type.
Tuck your keyboard and mouse away.
Due to the design setup and layout, the standard office keyboard and mouse take up a lot of space on your desk. The Humanscale 900 keyboard tray solves this problem. By installing it under your desk, you can move your keyboard and mouse off your desktop, reclaiming your desk real estate.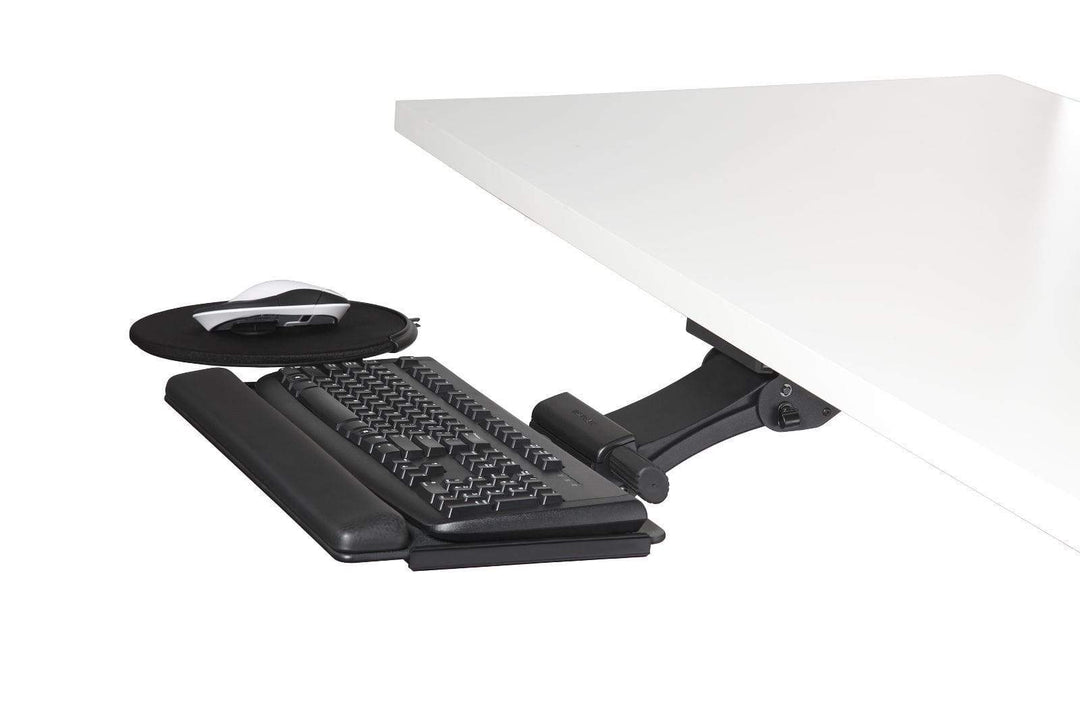 The product is designed with workplace ergonomics in mind. It allows you to sit and type faster in a healthy and neutral posture by bringing the keyboard and mouse to a healthier, more relaxed position. You should be able to complete your daily tasks with less exhaustion and strain.
Store items vertically.
Documents and office supplies can take up space and generate clutter. It's recommended that you store them vertically on shelves or file holders to save space.
Get rid of unnecessary stuff.
Minimalist office space can help improve productivity, encourage creative thinking, enhances workplace wellness, and lessens workplace stress. Thus, prevent clutter by getting rid of stuff that is not necessary for work. Examples would be an excessive number of personal mementos, documents you don't need, lots of memo pads, potted plants, and more.

Make it a habit to clean up your desk before and after you work, putting away unnecessary items.
Go for digital documentation.
If possible, go paperless. Compile digital copies of documents and files on your computer or in the cloud. Send documents via email, and make the use of e-signatures official. Going paperless not only prevents clutter but
Conclusion
Optimizing your workstation for space efficiency can have a significant impact on your productivity, comfort, and overall work experience. By implementing simple space-saving solutions and using the office accessories mentioned above, you can finally create a workspace that helps you achieve your goals while making working a pleasure.
---